Huge news for Amazon Prime Video today. It is bringing back Kids in The Hall with filming now underway in Canada.
Oh, and Amazon also plunked down $8.45 billion to buy film studio MGM.
What does this purchase actually mean. Ignore the headlines focused on the acquisition of James Bond. The big deal is that this gives Amazon Prime Video ownership over a massive library of movies and TV shows that you have heard of before. That's a catalog of over 4,000 movies and 17,000 TV shows. This is hugely important for Amazon as its library is a mixed-bag of stuff - much of it titles that audiences have never heard of before (with good reason).
It also gives Amazon the opportunity to adapt properties from this library into new movies and TV shows. This includes well-known properties like The Pink Panther, Robocop, Poltergeist, Legally Blonde, Basic Instinct, The Magnificent Seven, Tomb Raider, Silence of The Lambs, Stargate, Rocky, and the James Bond movies. Will there be a Miss Moneypenny series in the works? Yeah, probably.
"The real financial value behind this deal is the treasure trove of [intellectual property] in the deep catalog that we plan to reimagine and develop together with MGM's talented team," Mike Hopkins, senior VP of Prime Video and Amazon Studios, said in announcing the deal. "It's very exciting and provides so many opportunities for high-quality storytelling."
Now, when you think about the MGM library, don't mistakenly think this involves all of the classic MGM movies like Gone With The Wind and The Wizard of Oz. Those all belong to WarnerMedia.
In 1986, Ted Turner made a series of deals that resulted in Turner Broadcasting taking ownership of all prior MGM films. Not unlike Amazon, he wanted the films for programming his growing cable empire and the library became one of the pillars that built Turner Classic Movies. Today, WarnerMedia owns both TCM and Turner's MGM library. Many titles, including "The Wizard of Oz," are available to stream on HBO Max.
But the deal may involve the outtakes from filming of The Apprentice, where then-host Donald Trump used some words that were certainly not bigly, but were instead actually very racist. Those tapes have not been released prior. But now that Jeff Bezos controls them...
Now, about the James Bond of it all. Don't expect to see new Bond movies go straight to streaming. The Broccoli family still have a firm hand on the wheel and want to see these movies in the cinema.
"We are committed to continuing to make James Bond films for the worldwide theatrical audience," Broccoli and Wilson said in a statement out of London, where they run Bond home Eon Productions.
---
The one with the Friends reuniting
Approx 9 hours from now, the long-awaited Friends reunion will debut on HBO Max. (It'll stream in Australia via Binge from 5:02pm, FYI).
Reviews are out:
The special is better when it gets out of the cast's way and shows us what drew us to them, and them to each other. As the special notes, they were relative unknowns suddenly thrown into the celebrity panopticon. Now they're like an astronaut crew, bound by an otherworldly experience. As David Schwimmer says, only the six of them really understand what one another went through, and there's a protective feel to their interactions now.
Corden's a mixed bag at best as host of the fountain segments. He often repeats subjects that the actors already discussed on their own, and comes across like an overly enthusiastic Comic-Con panel moderator who would be better off just teeing up the guests and stepping back(*). Occasionally, those segments lead to something delightful, like the joy Perry takes in hearing Schwimmer explain in very serious detail why he hated working with the monkey who played Marcel. More often than not, though, they're redundant in a special that already has a lot of redundancies built in.
One of the special's most self-congratulatory moments is when it visits Friends fans from around the world, explaining how the show helped them through dark times. "They were my friends when I didn't have any friends," says a young woman from Mexico, choking up. But given the show's ongoing popularity, do we really need Nobel-prize-winner Malala Yousafzai and her best friend discussing their interest in the show as a selling point?
---
Kissing cousins
Something to consider while watching the Friends reunion... Matthew Perry and Courtney Cox may actually be related.
The "Friends" stars are 11th cousins, researchers at the online genealogy website MyHeritage have found.They discovered that Perry and Cox share distant relatives William Osbern Haskell III and Ellen Haskell, who were married and lived in England around 500 years ago, the company told CNN.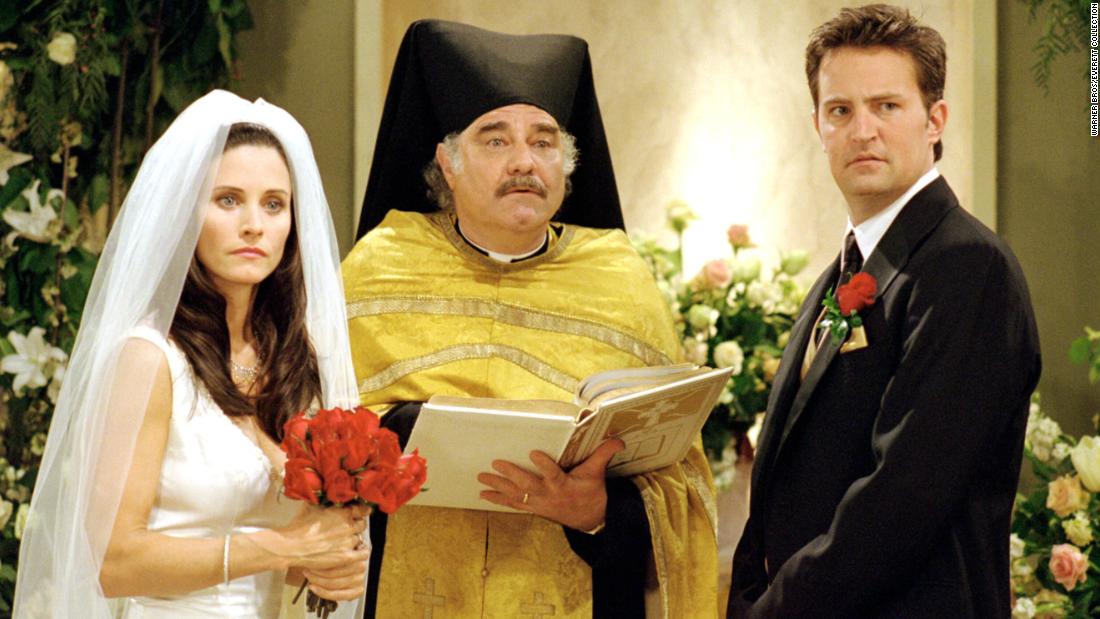 ---
Ten / Paramount+ score The A League in Australia
A big announcement yesterday - the Ten network announced that it has signed a $200 million deal for The A League in Australia. A main game will air on it's broadcast main channel every Saturday night, with the rest of the games streaming exclusively via Paramount+.
SMH has a really good explainer on what the deal involves and why Ten are investing so heavily in Australian round-ball football - a sport that has struggled to attract audiences in recent years.
Ten's key performance indicators will include the usual fare – ratings figures for the weekly Saturday night men's and Sunday afternoon women's matches on free-to-air, and the number of subscribers that will be driven to the soon-to-be-launched Paramount+ service for the rest of the games. But it's now really in their own financial interest that the sleeping giant of Australian sport wakes up and doesn't hit snooze again.
---
The evolution of The Simpsons
Take 14-ish minutes out of your day to watch this great video showing the evolution of the animation of The Simpsons. It includes interviews with David Silverman and Al Jean. It's very good.
---
TeeVee Snacks
---
Trailer Park
The Tomorrow War debuts July 2 on Amazon Prime Video.
Leverage: Redemption, the reboot of the Leverage TV series, debuts on IMDb TV on July 9. I believe it'll be released via Amazon Prime Video internationally, but I'm going to get confirmation on that.
Genera+ion returns to HBO Max on June 17.
The Naked Director returns June 24 on Netflix.
False Positive debuts June 25 on Hulu.
---
What's next? Tomorrow.