It's 2021 and we're sorta running out of new TV
After years of peak TV and having just waaaaaaaaaaaaay too much to watch, we're running out of new things. The pandemic forced a shutdown of pretty much every production and it took some time for production teams to figure out how to safely start or resume filming.
For streaming and cable channels which typically have shows completed before they begin broadcasting, there was already a healthy amount of inventory. This meant that for much of the past year, Netflix has been able to keep rolling out new series. But… those new shows are coming to a trickle right now. Relatively.
Kasey Moore, publisher of What's On Netflix:
The number of originals Netflix has released so far this year has declined 12% from a year ago. This might seem slight, but seeing as Netflix ramps up its output quite a bit each year, that decline is notable.

The number of licensed titles has dropped a whole lot more, which reflects other studios pulling their programs back for their own services.
Lucas Shaw at Bloomberg points out that the dwindling inventory isn't just a Netflix problem:
This is not unique to Netflix. If anything, Netflix is still in a stronger position than most of it competition.
Save for "Generation," HBO Max's biggest releases of March were a new cut of a movie first released in 2017 ("Justice League"), two documentaries ("Allen v. Farrow" and "Tina") and a movie shot before the pandemic ("Godzilla vs. Kong."). This time last year, it had original series "The New Pope," "The Outsider," "Westworld," "My Brilliant Friend" and and "The Plot Against America."
Hulu hasn't released much new since last year, though it did release shows for other networks like "Genius: Aretha" and "Mayans M.C."
Amazon's biggest title in March, "Coming 2 America," is a movie it bought from another studio.
This shortfall is expected to be relatively short-lived with a lot of productions back in business. But it does mean things are going to seem a little slow over the next few months.
Read: Bloomberg
---
10 years of Game of Thrones
April 17 marks ten years since Game of Thrones first went to air on HBO. To mark the occasion (and to start the hype machine for the many HBO Game of Thrones spin-offs in the works), HBO have a number of stunts including a marathon screening of every episode (redundant in the age of on-demand video, but whatever), prize-giveaways, etc.
Read: Deadline
---
The Nevers reviews are in
Joss Whedon's The Nevers, a show that the iconic creator got fired off following god-knows-what-really-happened-behind-the-scenes-of-Justice-League, debuts this month on HBO. Of course, he wasn't really fired - he stepped away from the project.
Caroline Framke at Variety:
For as much as "Nevers" might try to divorce itself from Whedon amid his ongoing controversies, there's no denying that he's all over it — and that, in many instances, his approach is effective. The series has so much mythology and so many characters (far more than I could feasibly list in this review), but its vision and characters are nonetheless immediately distinct and cohesive. It's just also undeniable that its vision and characters are also ones Whedon has used before, over and over again, often with diminishing returns. This tendency towards repetition isn't altogether unusual for creators who find a lane and stick to it; you only have to look so far as the Aaron Sorkins or Ryan Murphys of the TV world to know that. But it's interesting, to say the least, to watch a show so obviously borne of its creator and know that it will soon be forging ahead without him.
Joshua Rivera at Polygon:
From the outset, The Nevers is a puzzling fit for HBO. The premium network's reputation as the standard-bearer for prestige television gives every one of its dramas a sense of occasion, the expectation of television that aspires to push boundaries. The Nevers, however, is astonishingly pedestrian. It's a straightforward Whedon show with the addition of nudity and a few swear words, and fewer quips than his usual average. In the first four episodes made available to critics, the series slowly builds its mythology: Amalia True and Penance Adair (say their names out loud, you'll get it) encounter a mysterious cabal of frightening masked men abducting the Touched just as public sentiment toward Touched is reaching its nadir, thanks to the work of Maladie, a serial killer with her own gang of Touched villains. The world is meticulously built, but it has very little spark. Unfortunately, it's currently most interesting as a referendum on its creator.
Keith Phipps at TV Guide:
There's a lot going on in the series, in other words, and it will probably take most viewers a couple of episodes to find their bearings. In many ways, it feels like the work of a creator finding his bearings within television again, and figuring out how his vision fits into the more permissive world of HBO beyond allowing for generous amounts of nudity (which it also features). It's been, after all, a decade since Whedon ran a show featuring characters he created, and he's mostly focused on films featuring others' creations since then. By the time a couple of this-changes-everything twists arrive, however, The Nevers seems to be on its way. But with Whedon's departure, who knows if it will be heading toward the same destination?
---
The Good Fight stars return to farewell
Cush Jumbo and Delroy Lindo will both be back for guest roles on The Good Fight. The two were both set to depart at the end of the show's fourth season, with their goodbye episodes never filmed due to the pandemic shutdown.
It's no secret that I adore this show (heck, I even produced & co-hosted a Good Fight podcast for SBS for a while). I'm very curious to see what shape the series takes going forward with the series leaning heavily into the dark oddity of the changing nature of US culture under Trump. The world seems a lot less weird nowadays - how can the show reflect that and what does it have to say about the new status quo?
Read: TV Line
---
TeeVee Snacks
---
Greg Gutfeld launches Gutfeld!
Fox News' Greg Gutfeld, who is really awful, but also awfully watchable, debuts his new Fox News late night comedy show in just a few hours time. It will air weeknights up against the other comedy talk shows.
"After watching the late night programs on broadcast networks, especially over the last few years, it is easy to see they are all battling for the same audience with the same viewpoints and completely alienating a large swath of the nation," says Meade Cooper, Fox News' executive vice president of primetime programing, in response to questions submitted by email. "It makes sense for us to enter this space to give late night viewers who feel underrepresented a place they can laugh at night without feeling they are getting laughed at." Executives believe the show will "complement" the opinion programs from Tucker Carlson, Sean Hannity and Laura Ingraham that precede it each weeknight, she adds. "We think 'Gutfeld!' will be something our viewers and Greg's fans can enjoy as well as something those who have felt alienated from the current late night landscape can test out — even if they aren't regular Fox News viewers."
Read: Variety
---
TeeVee Snacks news
Every day in this newsletter I run a section called TeeVee Snacks, named after the Australian biscuits (do they have them elsewhere?). The OG TeeVee Snacks are fine, but I'm a bigger fan of the malt stick variety.
Spotted yesterday at Woolworths - brand new packaging for the tasty biscuits. Good-looking packaging. I assume that the taste remains the same - as does the less-than-inspiring-but-easily-ignored health star rating.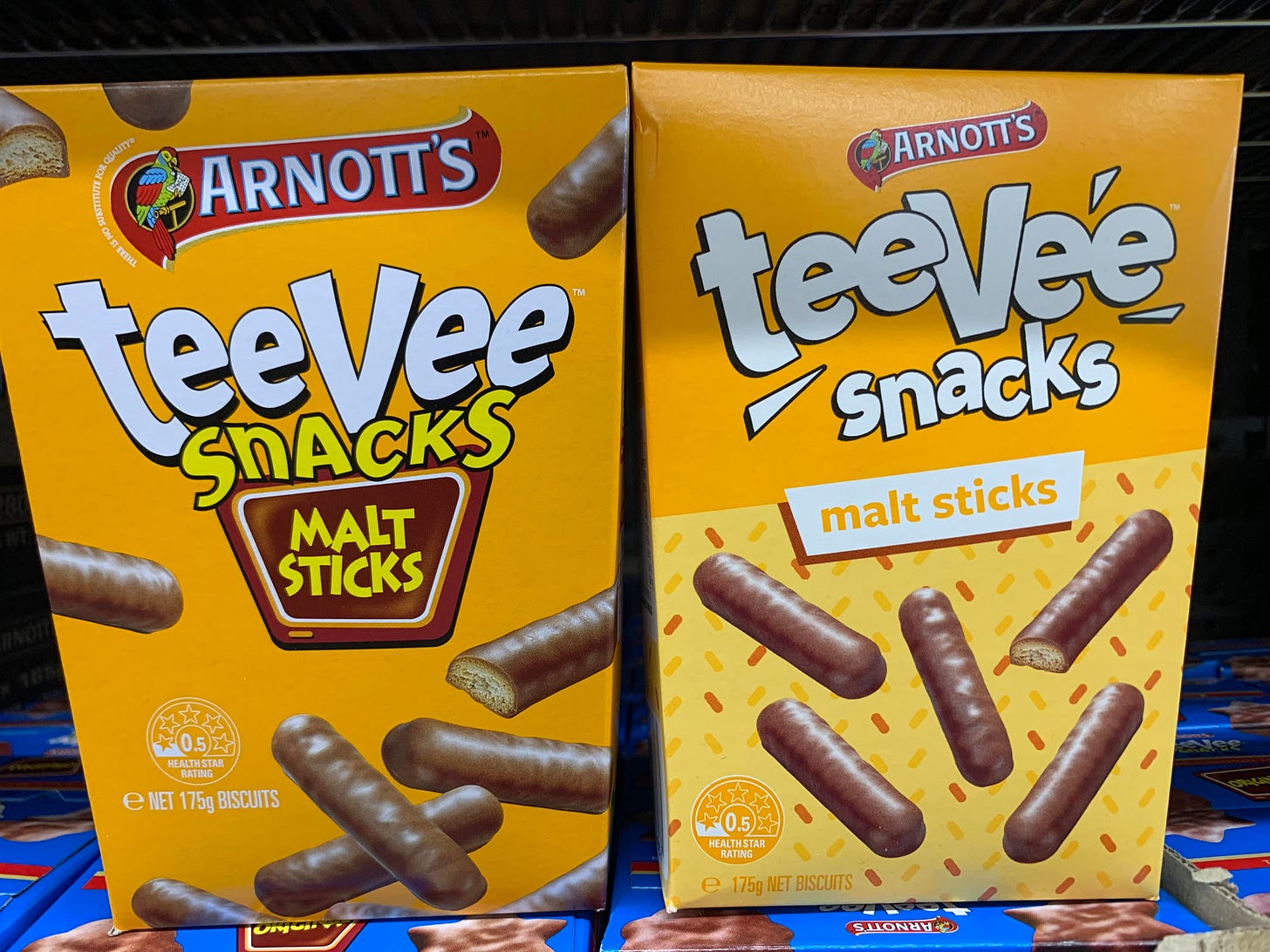 ---
Trailer Park
John de Lancie returns as Q in the second season of Picard.
Yasuke debuts on Netflix April 29. LaKeith Stanfield voices the titular character.
Loki debuts on Disney+ on June 11.
Black Widow debuts in theatres and Disney+'s Premium Access on July 9.
New episodes of The Circle debut April 14 on Netflix.
Original Chucky creator Don Mancini returns to helm the new Chucky series, debuting soon.
SYFY @SYFYHe's. Coming. Back. @RealDonMancini presents #CHUCKY, a new original series premiering on SYFY and @USA_Network this fall.
April 5th 2021241 Retweets592 Likes
---
What's next? Tomorrow.