Baz Luhrmann, who I am on record as believing is pretty awful, has a new TV show coming soon to Hulu that will look and feel very familiar to the 3-5 people who saw his film Australia. The sweeping outback epic has been recut into a 6-episode show titled Faraway Downs.
Apparently Baz filmed three different endings to his movie, so Faraway Downs will end differently to the film. But it won't just be a new ending - the entire film is being recut from the ground up, so it should look and feel quite a bit different.
An interesting project, but not necessarily one I suspect I'll take the time to watch. Did I mention I don't care for his movies?
---
Everybody knows your name
If you're looking for a funny comedy that has great characters and genuinely funny jokes and you haven't seen Cheers, seriously, what are you doing? The show launched in 1982 and watch that first episode - it still holds up incredibly well today. Outside of an early season one episode that revolves around a gay panic (it's a bit gross and really one of the shows very few black marks), the show and its attitude feels very contemporary.
Director James Burrows is doing the rounds to promote his new book about his career directing the biggest and most influential US sitcoms of the past 40+ years. He has penned this great article at Lit Hub talking about the decision to set the show in a bar, network pushback, and the technical decisions into how to make that incredible set function.
When it came to designing the set for Cheers, strong attention was paid to detail. More than anything else, we wanted class and warmth. We hired Richard Sylbert, an Academy Award–winning art director, to make the set look as beautiful and inviting as possible, since the characters were drinking what many in America still considered "devil's brew." Richard was very dignified, often decked out in a safari jacket while smoking a pipe. He had never worked on a television production before. He asked for a salary of 500 dollars for every show produced, which was unheard of. I told Paramount, "Pay him, even if you have to take it out of our share."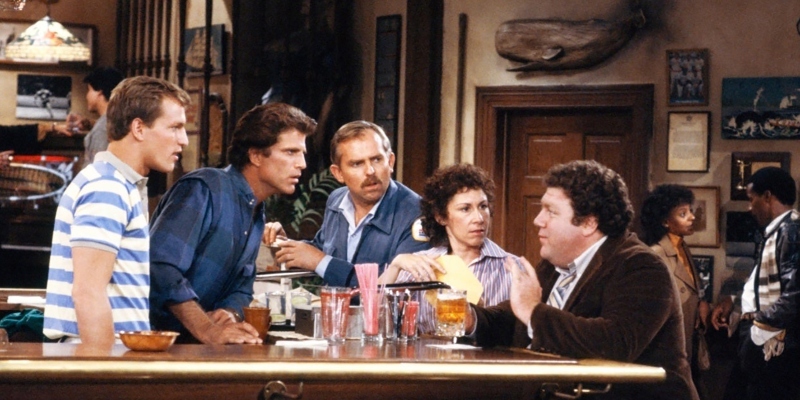 ---
Sky Deutschland announces some cool-sounding shows
We can all agree that ABW doesn't feature nearly enough news about Sky Deutschland. Today it has announced three cool-sounding series worth keeping an eye on:
Helgoland 513: 2034 - Based on an original script, this is from R.E.D. director Robert Schwentke.
The post-apocalyptic drama imagines a world in which the North Sea island of Helgoland has become the last safe haven for humanity. But the totalitarian society in charge dictates that only 513 people be allowed to live on the island, with every resident given a "social ranking" according to their "usefulness." All the while, a dangerous force from the mainland is preparing to invade and conquer Helgoland.
Frankenstein Untold - Director Philipp Stölzl is behind this one.
Frankenstein Untold is described as a "radical reimagining" of the classic monster tale, taking Mary Shelley's novel as a jumping-off point to explore the book's philosophical and political themes, with the story, set in 1816, told through the eyes of eight different characters.
Huntsville AL - This is the one I am most interested by. It is from Babylon Berlin co-creator Achim v. Borries.
The 1950s-set drama is inspired by the true stories of the Nazi German engineers and their families who, after World War II, were recruited by the U.S. military for a secret missile project in a sleepy Alabama town that became the basis of America's space industry.
---
Disney CEO Bob Chapek has inexplicably had his contract renewed. Read: Variety
BBC has renewed Sherwood, a series that apparently has nothing to do with Robin Hood. Read: Radio Times
Hugh Bonneville says it might be time to stop with the Downton Abbey. Read: THR
Kyle MacLachlan will star in a new TV show based on the Fallout games. Read: Polygon
Rumors abound that Paramount Global is looking to sell Australia's Channel 10 in the next two years. The continued ownership of 10 by Paramount doesn't make a whole lot of sense, especially as the company is reportedly looking for a buyer itself, so this reads as likely to me. Read: TV Tonight
Real-life husband and wife Rebecca Romijn & Jerry O'Connell will co-host The Real Love Boat reality show for CBS in the US. Romijn also stars in Star Trek: Strange New Worlds, a show owned by CBS parent company Paramount, so she stays in the corporate family. Read: Deadline
In some career rehab, Chris Pratt says he is not a religious person. Read: THR
Woody Allen will film his 50th movie in Paris, but says it may be his last as he's not that into making movies anymore. Read: The Guardian
Caillou is coming back as a CGI cartoon. Read: TV Line
Beyond Salem returns July 11 on Peacock.
Hocus Pocus 2 debuts on Disney Sept 30.
---
That's it for today. Tomorrow is a brand new day that will yield a brand new newsletter. See you then.