Now that kids aged 5+ can start getting the COVID vaccine in the US, Big Bird has also gotten the shot. There's no word yet on The Count and whether he has taken the opportunity to count his doses.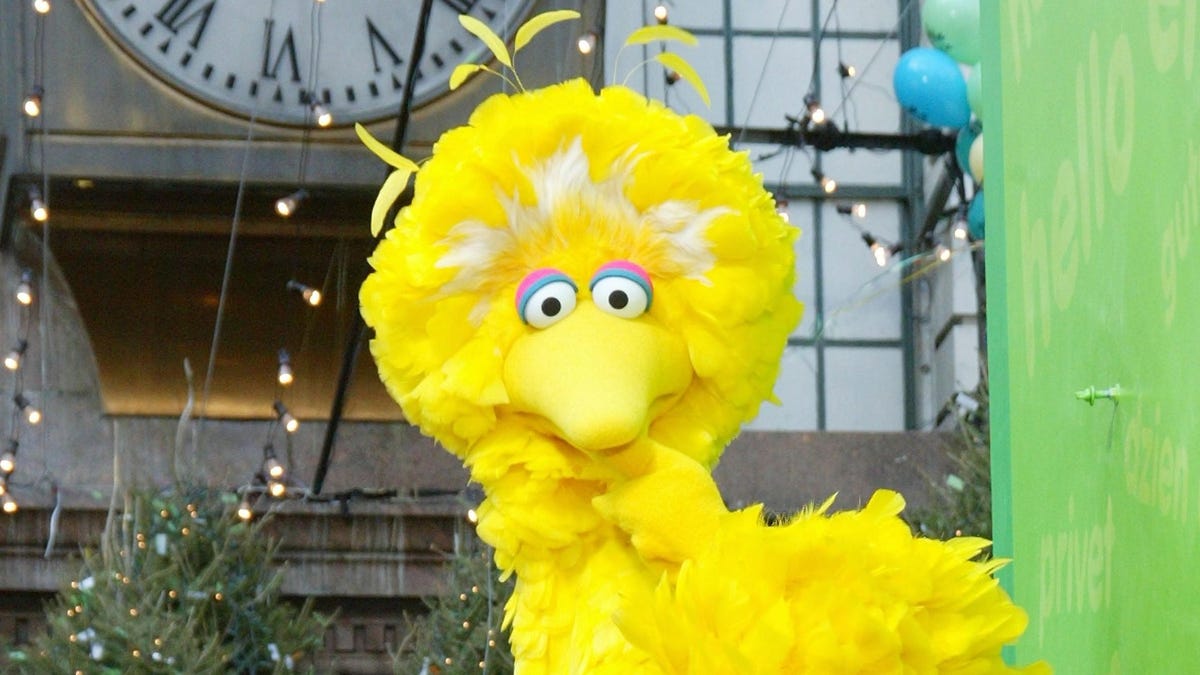 After Big Bird sent his tweet out once he got his vax, conservative voices freaked right out. I sent a tweet after I got vaxxed and nobody cared. It's all a popularity contest.
Fox News started criticising it, suggesting that the tweet (and the CNN/Sesame Street promotional broadcast encouraging kids to get vaccinated against the virus responsible for killing hundreds of thousands of people) is the first step in mandatory vaccines for kids.
US Senator Ted Cruz also got in on this, trying to stoke more culture war nonsense.
Which begs the question: Which govt agency does Big Bird work for? PBS isn't a government-funded public broadcaster in the way that the UK has the BBC and Australia has the ABC. It relies on donations and grants to fund its operations. Oh, and then there's the not-a-government HBO which also has a stake in Sesame Street.
Good one, Ted.
Unlike Ted (who I assume is actually vaccinated), Big Bird has been public about his pro-vaccine stance since his first vaccination back in 1972:
---
Emilio out as Coach Bombay due to anti-vax stance
The Disney-owned ABC Signature is the company producing the  Mighty Ducks: Game Changers show for Disney+. As talks ramped up for season 2 of the show, the subject of Disney's COVID vaccination requirements for those working on sets came up. Emilio Estevez, the OG star of the Mighty Ducks franchise wouldn't provide any assurance that he'd follow through with the mandatory vaccine requirements. So, Emilio won't be back for season 2. His people have suggested that he won't be returning for 'creative reasons'.
A train of thought now has me wondering about the COVID antibodies present in Tiger Blood and when the FDA will approve its use in the fight against the stupid virus. But that's a conversation for another day.
In other vax mandate news, conservative talk outlet Newsmax has featured vocal hosts complaining about mandatory vaccine mandates across the US. Behind the scenes, the company is implementing one.
---
The death of the laugh track?
Mashable writer Chris Taylor has a piece today that suggests that the TV sitcom laugh track has breathed its last breath,
Historians will dispute the exact moment of death. Was it when The Big Bang Theory, the last major sweetened sitcom, went off the air in 2019? Was it early in the COVID pandemic, when even the most unfiltered studio audience started to sound weird and quite possibly illegal? Was it only proven brain dead in late 2021, when no sweetened TV sitcoms debuted on U.S. networks during the all-important fall season?
Gosh, wait until Taylor checks out sitcoms on broadcast TV like CBS laffer The Neighboorhood, or sitcoms on streaming like Netflix's The Upshaws, or HBO Max's new Head of The Class reboot...
---
Netflix subtitles - not great yet
With the popularity of Squid Game, conversations have started about the quality of subtitle transcription. There's good translations and bad. Even Netflix have publicly stated that there is room for improvement. A spokesperson:
Generally, we think our subtitles and dubbing are good but not yet great. So we're constantly working to improve them.
There's a fantastic article in The Hollywood Reporter today that clearly outlines two things worth considering about subtitles. First, what is the job of the person producing subtitles:
Workers in the field are generally required to limit the length of their subtitles to approximately half the number of letters or characters that are available for an audio dubbing script, but they also are expected to retain the full meaning of dialogue while making it so easily readable that it doesn't detract from the enjoyment of the onscreen action. The task is difficult enough when the meaning is straightforward — but when translating across cultures, it seldom is.
It then goes on to illustrate this difficulty in translation by pointing out the use of the word 'Oppa', used by women to address an elder brother or man a few years their senior, which was translated in Squid Game as 'Old man'. Very different connotations.
But the more interesting thing mentioned in the article is the declining fees paid to those doing the subtitling. Some feature films are being subtitled for as little as $255.
The pay and conditions for subtitling in Japan have worsened since Netflix launched locally in 2015, according to a multidecade veteran who also teaches the craft at a specialist college in Tokyo (and who also preferred to remain anonymous because of business relationships). "Fees have fallen by about 25 percent for very experienced subtitlers but nearly halved for entry-level work," says the industry veteran.
The average fee in Japan is reportedly about $300 for a one-hour show, with experienced subtitlers getting double that. Work is expected to be completed within a week.
And, of course, it isn't just shows being translated into English that are lost in translation - it's just as regular occurrence for shows being translated internationally.
---
Teri Hatcher - stand-up comedian?
US network Showtime has Even More Funny Women of a Certain Age, the third in a series of specials due to air. It's a stand-up comedy special that gives the stage over to older women (based on the trailer, this seems to mean women aged about 45+). Strangely, among the women selected for this third special is the not-a-stand-up-comic star of Lois & Clark and Desperate Housewives, Teri Hatcher.
While Teri has been funny in her work before (she was regularly very funny in Lois & Clark and she has a very memorable performance in Seinfeld), this seems like somewhat of a stretch. Her limited screen-time in the trailer suggests converns about this aren't exactly unfounded.
---
TeeVee Snacks
---
Trailer Park
Stranger Things returns for season 4 in the 2022 'US summer'. Just a thought: Remember when The X-Files moved production from moody Vancouver to sun-soaked Los Angeles and it became far less visually memorable? Not sure why that just came to mind...
The Righteous Gemstones debuts season 2 on HBO Jan 9.
The Three-Body Problem is set to be adapted as a series for Netflix by the Game of Thrones creators. This is an adaptation of the same books, but made for Chinese streamer Tencent.
The Future Diary debuts on Netflix Dec 14.
Trolls Holiday in Harmony debuts Nov 26 on NBC.
The Mind, Explained returns Nov 19 for season 2 on Netflix.
---
What's next? Tomorrow.