Byron influence
While last month I almost talked my mother-in-law into getting a Stan subscription, I'm not deemed enough of an influencer for Netflix's upcoming Byron Baes - a new Netflix reality show following the lives of the Instagram influencers living in Byron Bay on the New South Wales northern coast. So, now that the most likely candidate is ruled out, who is going to appear on the show?
Look for former Love Island contestant Elias Chigros, along with model Jessica Vander Leah. No - I don't really know who they are either.
According to well-placed insiders, production are keeping a tight lip on the cast with fears some may pull out ahead of scheduled filming due to commence next month.
Read: SMH
---
TeeVee Snacks
---
What would you do if I sang out of tune?
The Wonder Years producer Lee Daniels has shared the first-look cast photo of the reboot cast.
A post shared by @leedaniels
---
Seinfeld architecture
There's a lot of Reddit activity right now focused on the architecture of Seinfeld. It began with questions about Seinfeld's hallway:
In the show we routinely see the Seinfeld characters walking through a straight hallway. But how can the above be?
But the conversation has grown - what is the deal with the doorway at Monks?
While your mind remains blown, let us break the fiction of the world for a moment with this photo of the Seinfeld set.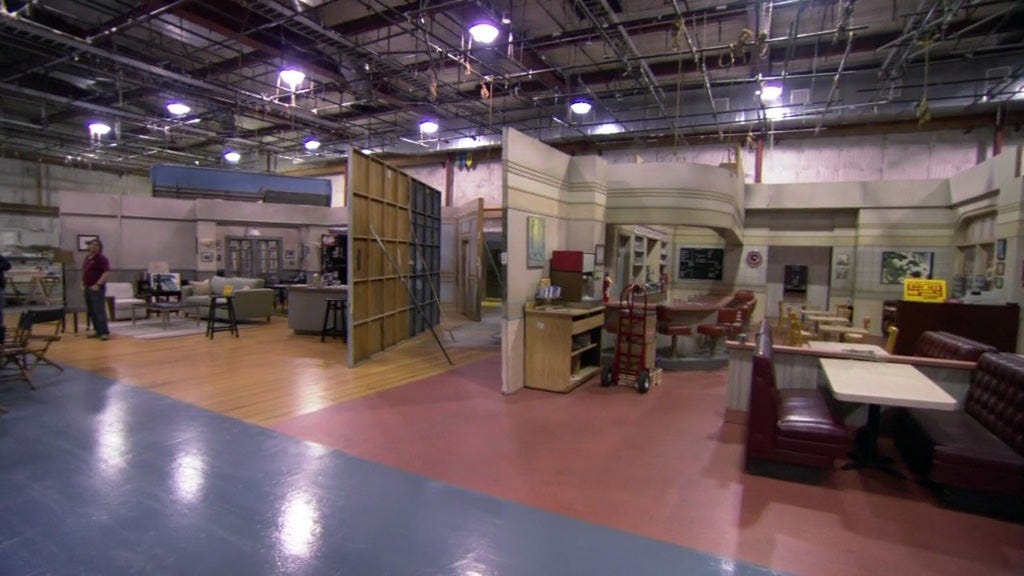 ---
Sinfeld - the post apocalyptic game about nothing
And on the subject of Seinfeld…
Sinfeld is a game inspired by Seinfeld. Well, maybe not Seinfeld exactly - this seems like the byproduct of creatives who have spent too many years in Seinfeld communities online sharing dank memes.
Yadda yadda… I now need a PS5.
---
The Best TV Shows That Never Were
Back in 2004 the US ABC network aired a special showcasing TV shows that never made it past the pilot. The special, The Best TV Shows That Never Were, was written by Lee Goldberg, based on his 1990 book Unsold Television Pilots.
This is actually the second TV special that Lee wrote based on the book, with the previous airing on CBS in 1996 - The Greatest Shows You Never Saw.
The Best TV Shows That Never Were is a lot of fun. Goldberg has uploaded it to YouTube:
---
Larry Charles Projects
Want more Seinfeld AND TV pilot content? Fret not, the ABW newsletter is here to deliver for you this morning.
Longtime Seinfeld writer Larry Charles has recently launched a new YouTube channel where he is curating various videos from his past. Here is a pilot he wrote that starred Wayne Knight. It's, uh… it's something.
---
Trailer Park
Eden debuts on Stan soon.
The mystery of Eden unfolds in an idyllic coastal town, where the disappearance of a young woman triggers a devastating chain of events which lays bare the dark and hidden heart of the community. Long buried secrets are dragged into the open as lives and deeds intersect over one fractured summer and its aftermath.
---
What's next? Tomorrow.