Over the weekend the release of Black Widow set a pandemic-era box office record of $215 million. Not huge by Marvel standards, but good considering the current state of cinema exhibition. What is interesting about this is less it's box office takings and just how well it did selling more expensive Premier Access tickets via Disney+.
In terms of it's weekend takings, the movie earned $80M in US box office, $78M in international box office (which doesn't include China where the film is yet to see release), and over $60M via Disney+ Premier Access in the US and internationally. $60M is obviously less than it earned in cinemas, but Disney gets to keep all of that - the cinema exhibition takings give Disney just 50% (with the exhibitors taking the other half).
The split between cinema and home viewing sales is quite likely exactly where Disney want things for the moment. In 2021, most of the money earned from a film release will be from cinema ticket sales. But that will change. TV screens are getting bigger, augmented/VR viewing is bubbling away and likely to explode in the coming years, and at-home viewing alternatives are generally becoming normalized. Disney are now in a great position to move their audiences and financial investment/expectations with the direction that audience behaviour moves in.
Questions that need to be answered before one can consider this a success either way:
Who is the audience that are buying Black Widow via Premier Access? Are they people that would have bought tickets at the cinema? It is a fallacy to assume that a Premier Access viewer is a lost cinema visit - there are a lot of people who are interested in these big movies who simply don't have time or access to get to the cinema. They may be time poor, have conflicting obligations, or physically cannot go to a cinema. But what percentage of the Premier Access audience is that? I'm sure Disney are doing market research on that very issue.
Where were the bulk of the Premier Access purchases? Were they in markets where cinemas are still closed due to lockdowns? Or was that statistically insignificant?
The next big Disney release is another day and date cinema/Premier Access release - Jungle Cruise starring The Rock. It'll be interesting to see if the Premier Access sales are comparable.
Emboldened by this news is ViacomCBS which have plans to use streamer Paramount+ in a similar way. Upon being asked about Disney's Black Widow success, ViacomCBS exec Kelly Day was enthused to be able to talk about the experimentation underway:
"There is still an incredible opportunity for people who want to sit in the movie theater and have that experience, but also people who want to have the experience at home."
ViacomCBS recently halved the exclusivity given to movies playing in cinema, shrinking big release films to from 90 to 45 days and smaller titles to just 30 days. This comes at the same time as the company is rolling out Paramount+ to more territories. It launches in Australia next month, but there are plans to launch in 45 markets by the end of 2022, with Europe at the "top of the priority list".
---
Levine rips into CNN's History of The Sitcom
CNN are currently airing a documentary series exploring the history of the sitcom. I was kinda curious to know what Ken Levine thought of it as he is both: highly vocal and easily found online by way of his great blog and podcast; and he's one of the most influential voices in sitcom history. Levine has written for shows including Cheers, M*A*S*H*, The Simpsons, and Frasier.
It seems he was frustrated that the series called History of The Sitcom was less a history of the sitcom and more an exploration of the socio-political attitudes of TV, giving far more time to less-impactful shows that featured racial and sexual politics favored today than being reflective of the shows that made a mark on the medium.
Other than Norman Lear, Steve Levitan, and Darren Starr, no writers were mentioned.  They spent a ton of time on FRESH OFF THE BOAT.  You would think it's one of the five greatest sitcoms in history.  Who wrote it?  At one point some talking head said that black shows started finally being written by black writers.  Who?  Wouldn't that be more informative than a fan coming up to Constance Wu (who tried desperately to get out of FRESH OFF THE BOAT) and telling her how meaningful her show was to her?   FAMILY TIES gets a nice long segment and not a word about its creator, Gary David Goldberg.
---
TeeVee Snacks
---
Tucker broadcasts from his log cabin
Fox News host Tucker Carlson how has a new daytime TV show in addition to his nightly Fox News show. Tucker Carlson Today streams on Fox Nation and has him sitting in a log cabin in one-on-one interviews with other people who join him in shaking their heads at the state of modern America.
Megan Garber at The Atlantic has taken a look at the show and the way that it is poisoning what patriotism means from the comfort of his fake log cabin.
Here's a grab from the piece that cuts to the heart of what is going on here:
"People on the right seem to be sort of sacrificing the Confederacy, to some extent, because it doesn't do the work they want it to do," Karp told Slate's Rebecca Onion. "What does work is laying claim to the nation at the heart of the idea of America. Not in the old-school 'the founders were geniuses and set aside universal freedom from everyone' Lynne Cheney kind of a way, but in a new school way that just says, 'America, fuck yes!'"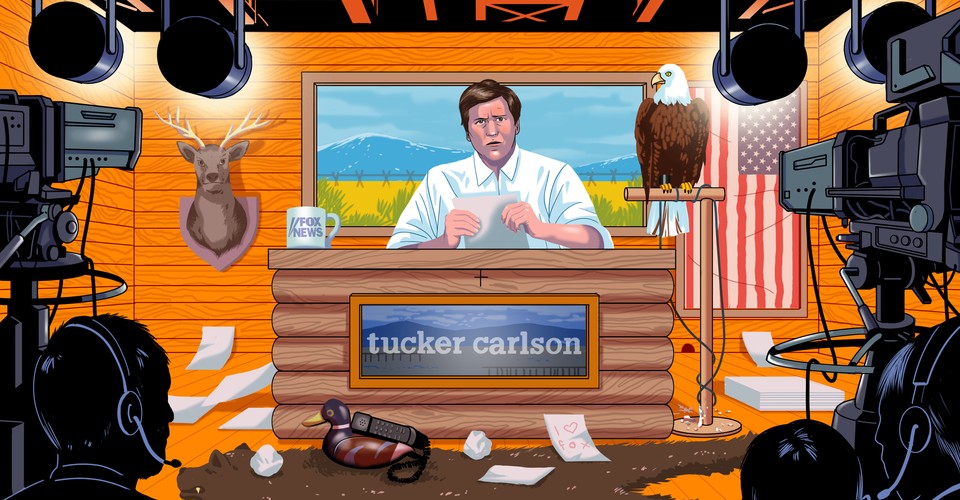 ---
Trailer Park
Hit & Run debuts August 6 on Netflix.
FBOY Island, a real show and not a 30 Rock gag, debuts on HBO Max July 29.
The Newsreader debuts on ABC TV August 15.
Valeria returns to Netflix for season 2 August 13.
Metroid Dread is released Oct 8 on Nintendo Switch.
---
What's next? Tomorrow.