Buffering For Godot
A staged off-Broadway production of Waiting For Godot will stream from Thu May 6. Starring Ethan Hawke and John Leguizamo in the lead roles, the cast also includes Wallace Shawn, Tarik Trotter, and Drake Bradshaw. Tickets to watch will cost US$19.99. You can find out more, buy tickets, and watch it at The New Group's website.
Watching a live theatre performance is very different to watching it at home. But, it's great that more and more opportunities to see theatre shows captured for audiences to view from home are being made available. As AR and VR become more than a thing, the skills theatres are learning in embracing new ways to deliver performance for recorded screenings is going to prove beneficial.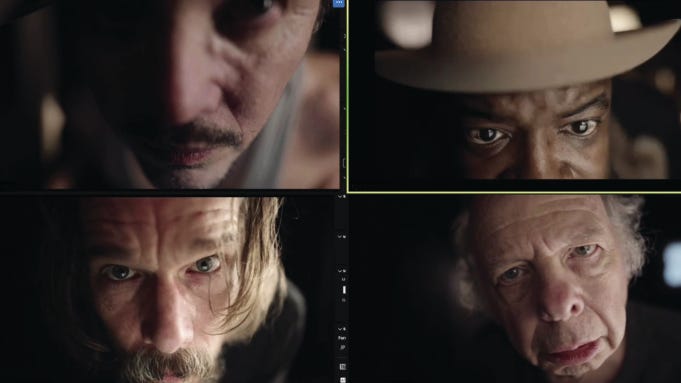 ---
Powerpuff - first look
Filming is underway for a live action version of hit 90s Cartoon Network show The Powerpuff Girls.
The new show will just be titled Powerpuff and will star Chloe Bennet as Blossom, Dove Cameron as Bubbles, and Yana Perrault as Buttercup. Tom Kenny is back as the Narrator. Today the first cast photo was released.
Source: Dark Horizons
---
TeeVee Snacks
---
Trailer Park
There's two more episodes to go for The Falcon & The Winter Soldier, so Disney has released a trailer to entice you to see it through to the end. Just quietly, I've been loving this series - it really feels like a Marvel comic come to life in a way that the films never quite have.
Mythic Quest returns to Apple TV+ from May 7. Has anyone else noticed the marketing no longer calls the show Mythic Quest: Raven's Banquet? Smart move.
Pet Stars debuts April 30 on Netflix.
Follow talent management agency Pets on Q as they work with the biggest animal influencers on social media in this reality series.
Fatma debuts on Netflix April 27.
Reeling from tragedy, a nondescript house cleaner embarks on a murderous streak as she searches for her missing husband and reckons with old wounds.
Searching For Sheela debuts April 22 on Netflix.
Osho's controversial and sassy ex-secretary, Ma Anand Sheela returns to India after 34 years of exile and people just can't get enough of her. Searching for Sheela is an intimate look into her journey across India, observing the rebranding of her as a pop-culture icon, with audiences unable to decide if they deem her a "criminal" or remain in awe of her badass secretary days.

Sheela, now frail and 70, in the twilight of her life, appears to be seeking redemption, but is she? And if she is, does a world consumed by spectacle allow her the space to?
---
What's next? Tomorrow.