What a difference 15 years can make. Following the conclusion of the Star Wars prequels, there was very little fan enthusiasm surrounding characters from that film or their cast. It's not like fans were clamoring to see Hayden Christensen back on screen. But, those films have gained traction over the years. And even Christensen, who is, politely, not great in those films, has become more warmly received.
And, to be fair, from other work Christensen has done over the years, it is quite clear that the problems with his performance on the Star Wars films weren't really his fault. If you haven't seen his best film, Shattered Glass, you should get on that - he's great in it.
Fans got excited by news that Christensen would be reprising his role as Anakin Skywalker/Darth Vader in the upcoming Obi-Wan Kenobi series. And this weekend it was revealed that he'd be returning for yet another Star Wars show - the upcoming Ahsoka.
For those who haven't watched the Star Wars: Clone Wars cartoon, Ahsoka was a young Jedi who was the apprentice to Anakin Skywalker before he broke bad. The two characters obviously have a strong association historically, so it makes sense that he will appear here. With the show set after the death of Anakin, he will likely appear in flashbacks or as a force ghost. My guess is it'll be as a ghost. But let's see.
Would anyone be surprised at this point if Disney announced a Darth Vader TV series with Christensen back as the lead? Surely those conversations are happening...
---
Yet another No Activity remake - this time for Japan
It's the TV format that could. Australian format No Activity has been sold yet again, this time to Amazon Prime Video for a remake in Japan. It debuts there on Dec 17.
A low-key, cop stakeout show, No Activity ran for just two short 6-episode seasons and a Christmas special on Aussie streamer Stan. It was then adapted in the US for CBS All Access where it ran four seasons (32 episodes). The fourth season evolved the show into a fully animated series.
No Activity has also been adapted into remakes in Holland, Germany, Denmark, and Dubai.
It is entirely possible that there are now more remakes than there have ever been viewers of a No Activity series.
---
OnlyFans gets classy
It's the account that will have OnlyFans patrons breaking out their credit cards: the Vienna Tourist Board has joined the platform.
Vienna-based institutions like the Vienna Museum of Natural History have had a problem with social media platforms removing photos of artworks like the Venus of Willendorf, a 25,000-year-old limestone figurine of a woman, for being 'pornographic'.
They needed a solution. (And you can see where the story of this PR-friendly problem is going...)
"It's not an anti-technology agenda that we have," said Norbert Kettner, the director of the Vienna Tourist Board. But after the city's museums faced one case after another of social media sites taking down their posts, he said, "We thought, 'What would be an alternative? What would be a channel where nudity is not an issue in and of itself?'"
Enter: OnlyFans.
Mr. Kettner said that the OnlyFans account is not a permanent solution, but rather a protest against censorship and a call for conversation. "We want to draw attention to a certain thing," he said. "We want to put it out there, to talk about the role of artificial intelligence, of algorithms."
Read: NYT
---
Is it a good thing TV is bypassing the pandemic
Some TV shows set its 2020/21 and 2021/22 seasons in the thick of the COVID-19 pandemic. Others chose to bypass it entirely and not bring it to screen.
Amy Amatangelo at Paste takes a deep dive into how TV has handled the pandemic - from COVID specials filmed via ZOOM to shows that chose to weave COVID storylines throughout their series:
In hindsight the two best ways to handle the pandemic were to either go all in or all out with COVID. On Grey's Anatomy, Meredith Grey (Ellen Pompeo) spent the majority of last season in a COVID-19 induced coma as the veteran ABC drama wove all aspects of the pandemic into its storytelling. Their doctors consistently wore face shields, patients talked to family members via video calls and characters lost loved ones to the pandemic. Grey's looked COVID in the eye and did not flinch. This season, episodes of ABC's Station 19 and Grey's Anatomy are bookended by the statement that both series are now set in a "fictional, post-pandemic world which represents our hopes for the future. In real life, the pandemic is still ravaging the medical community." While it's odd to hear the characters on a series so committed to accurately reflecting the pandemic talking about COVID in the past tense, creatively the series could not (and likely should not) have stayed in a COVID world.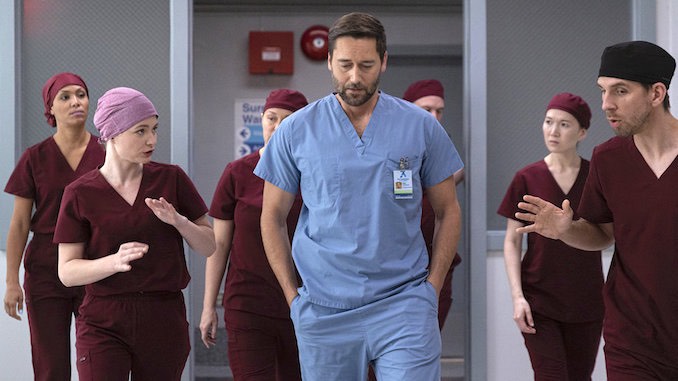 ---
TeeVee Snacks
---
How Merchant got Walken
Stephen Merchant has a new TV series for the BBC The Outlaws. He wanted to cast a big-name US actor for a role on the show, casting Christopher Walken. To cast Walken, however, required Merchant to go visit him:
"I went to Connecticut, where he lives, and sat with him. Someone told me beforehand that Chris is very, very comfortable with silence. He is in his 70s, he has nothing to prove, he's a very meditative thoughtful guy. He'll ask you a question and then he likes to think about the answer you've given – for like 10 minutes. Because I knew he was comfortable with that, I went quiet as well. I would just sit and look out the window until he had another question. We were there for four hours. At one point he made me an omelette because I was getting weak from hunger. We hit it off and he came to Bristol, so it must have worked."
---
Trailer Park
The very cool-looking The Summit of The Gods debuts on Netflix Nov 30. In some territories there will be a cinema release.
A Discovery of Witches returns for its third and final season in January.
Super Crooks debuts Nov 25 on Netflix.
Prayers For The Stolen debuts Nov 17 on Netflix.
Extinct debuts Nov 19 on Netflix.
---
What's next? Tomorrow.