It is easy to overlook how huge a cultural influence Joe Rogan is. His video podcast is the most listened/most watched show on Spotify in multiple countries. He now wields significantly more sway (and certainly a higher audience) than almost any other talkback TV or radio voice. You may not like him, but there's no denying his voice carries weight.
With that in mind, I found this to be an interesting comment from Rogan about the idea of former reality TV star Donald Trump appearing on his show:
I've had the opportunity to have [Trump] on my show more than once — I've said no, every time. I don't want to help him.
It interests me that he said no for two reasons:
1) That's just interesting in itself; but also
2) Saying no to Trump really is saying no to the creation of a huge cultural moment. The viewership of that would be massive, the media attention on the interview would be huge. You'd have to think corporate overlords Spotify would be keen to see that happen (for the stock price bump, if nothing else).
It's likely for the best that it didn't happen.
---
How much would YOU spend on a Star Wars cocktail?
Visit the new Star Wars: Hyperspace Lounge on the Disney Wish cruise ship and you can enjoy the Kaiburr Crystal cocktail. Priced at a mere US $5000 (AUS $7,272), the cocktail is served in a fancy space container.
Guests get to keep the silver plated glasses in which the drinks are served. (But not, alas, the cool Star Wars container gizmo.) They also get amenities delivered to their staterooms, including flowers and personalized sparkling wine from Skywalker Vineyards, the wine estate owned by none other than Mr. "Star Wars," George Lucas. They can check out the grapes that made the wine, because the $5,000 package includes a visit to the vineyard, which is located at Skywalker Ranch in Marin County, California. Tours are not otherwise available to the public.
Where I come from, folks don't spend $5k for fancy cocktails, they drink for affect and to meet women. On that metric, I can't see anyone getting their $5k worth out of this dork drink.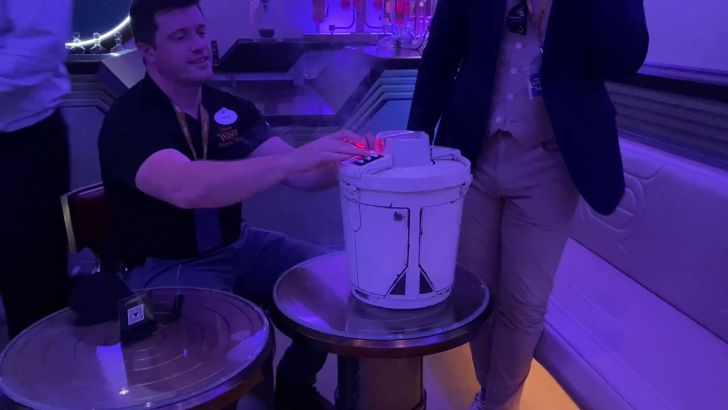 ---
James Cameron offers some solid advice
Director James Cameron has some words of advice for those complaining about the 3-hour runtime of Avatar: The Way of Water:
"I don't want anybody whining about length when they sit and binge-watch [television] for eight hours," Cameron told the magazine. "I can almost write this part of the review. 'The agonizingly long three-hour movie…' It's like, give me a fucking break. I've watched my kids sit and do five one-hour episodes in a row. Here's the big social paradigm shift that has to happen: it's okay to get up and go pee."
It's good health advice too. If you need to pee, go and take care of it.
Paper Girls debuts July 29 on Amazon Prime Video.
Rap Sh!t debuts on HBO Max July 21.
An Australian version of reality show Hunted debuts July 17 on Channel 10.
---
That's it for today. Imagine a world where tomorrow delivers another newsletter. Good news... this fantasy gets real when the next ABW edition hits your inbox.