Right as I was putting together yesterday's Always Be Watching newsletter, former Two Guys, a Girl, and a Pizza Place star Ryan Reynolds pushed out a video via his social media featuring actor Chris Noth and a romantic partner getting excited about jumping back on their Peloton bikes.
The video was a response to the death of Noth's Mr Big character in the debut episode of Sex & The City sequel series And Just Like That. Big had a fatal heart attack after a session on a Peloton.
You may have a few questions. Such as:
How was the commercial filmed so quickly?
Why is Ryan Reynolds involved with this?
The answers are: It just was. And Ryan Reynolds owns a marketing company Maximum Effort that had just signed Peloton as a client.
Here's Reynolds:
"By pure luck, we'd been talking to Peloton about our Creative-as-a-Subscription [launched with MNTN] product in the week before this all happened," Reynolds tells THR. "I literally met Dara [Treseder, CMO of Peloton] for the first time on Dec. 1. She emailed us right after the episode aired and we all knew just what to do. We try to do these things in a way where everyone wins — Peloton, Chris and the show itself."

The time from conception to cameras rolling was 24 hours, Reynolds notes, adding, "Chris was in right away, but it was a whirlwind. For all of us. I certainly helped secure Chris, but Maximum Effort has built itself on challenges like these so, while never ever easy, the secret is practice and not losing heart when challenges inevitably occur."
Meanwhile Vulture asks: Could Carrie have saved Mr Big from dying by calling a paramedic? Fair question.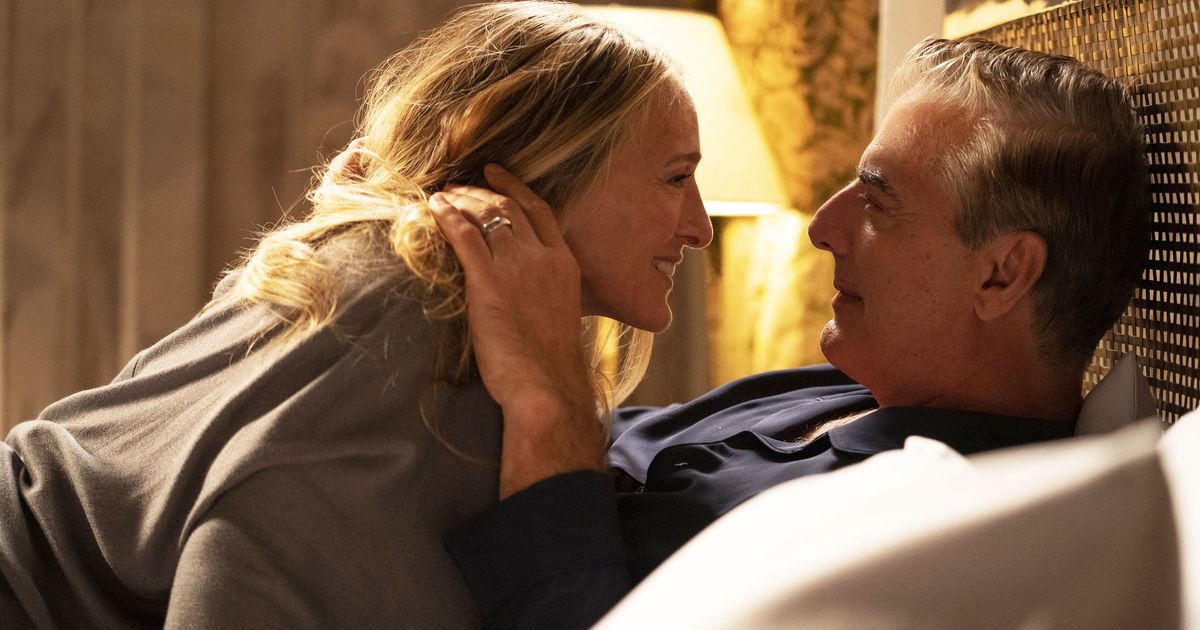 ---
Golden Globes 2022
The HFPA today announced the Golden Globes nominees. For too many years the organization served as a grift to pamper its members and give them an opportunity to starf*ck.
There's no reason to play the game of the HFPA and report on who was nominated. Especially since these awards are no longer being broadcast on TV. They might as well not exist.
---
TeeVee Snacks
Disney+ show Diary of a Future President has been cancelled after two seasons. Read: Deadline
The Dr Oz Show officially concludes in January due to Oz's political ambition. A show hosted by his daughter will replace it. Read: Deadline
Acorn TV and TVNZ have greenlit season 2 of romantic comedy Under The Vines. Read: TBI Vision
A live-action Mega-Man movie is in the works at Netflix. Read: IGN
The Bourne Supremacy's Oksana Akinshina will star in Container - Apple TV+'s first Russian language series. Read: Variety
---
Movies hit the streams
The release of West Side Story in US cinemas this past weekend was a massive disaster. Believed to require at least $300 million to break even, the film brought in just $10.5 million. Reviews were good - why didn't audiences turn up? It's pretty simple: the film is geared towards older audiences, but older audiences are understandably freaked out about returning to cinemas during a pandemic.
This week's release of Spider-Man: No Way Home is expected to be a huge success, driving audiences back to the cinema. But broadly, audiences seem happy enough to just wait for movies to be released onto streaming. With adult-oriented releases failing to ignite at the cinema, there are moves underway to salvage what they can during this difficult climate:
The Jennifer Lopez / Owen Wilson musical romcom Marry Me will debut in both cinemas and on streamer Peacock on Feb 11. Read: Variety
The Ben Affleck / Ana de Armas erotic thriller Deep Water will no longer get a cinema release. It will instead stream on Hulu in the US and Amazon Prime Video internationally. A release date is still TBA. Read: Deadline
A declining box office isn't just a US concern - South Korean cinemas are feeling the squeeze. An added complication in that market in a government-mandated local content quota. It wasn't an issue pre-COVID, but a production slowdown thanks to the stupid virus means that there isn't the volume of supply needed.
---
Trailer Park
The Gilded Age debuts Jan 24 on HBO. It is the new series from Downton Abbey creator Julian Fellowes.
Firebite debuts Dec 16 on AMC+. It's really good.
Love Me is the first original series from Aussie streamer BINGE. It debuts Dec 26.
Servant season 3 debuts Jan 21 on Apple TV+.
DC Comics show Naomi debuts Jan 11 on The CW.
A Very British Scandal debuts Dec 26. Claire Foy stars.
---
What's next? Tomorrow.