Australian soap Neighbours, cancelled earlier this year after 37 years of broadcast, has found a new home thanks to Amazon.
Neighbours was an unusual production in that while an Aussie soap, the production was funded by Channel 5 in the UK where the show has been very popular for much of its run. Channel 5 was keen to spend that production money into local programming which it could then sell globally, so Neighbours (which still had a decent enough viewership) became a casualty of a network making some financially sensible ideas.
Of course, more people in Australia will read news stories today about the revival of Neighbours than were watching it nightly during its final years. Most nights it was getting just over 100,000 viewers. For local broadcaster Channel 10 (owned by Paramount Global) to pick up the series itself and fund it just for its local audience would have been a wasteful exercise.
Yesterday evening news broke that Amazon has opted to pick up the show. Here's what we know:
Neighbours will return in the second-half of 2023. Returning cast includes longtime fan favourites Jackie Woodburne (Susan Kennedy), Alan Fletcher (Karl Kennedy), Stefan Dennis (Paul Robinson), and Ryan Moloney (Toadie). Other prior cast members found out the show was coming back last night when everyone else did.
In Australia, the show will continue to be broadcast by Channel 10 (either on its main channel or one of its digital multichannels - it had been on the 10Peach channel at the time of its demise). 10 will have an exclusive 7-day window on each episode, but after that, episodes will be available to stream on Amazon Prime Video. It isn't known whether 10 have access to catch-up streaming rights over that 7-day period.
In the US and UK the show will be available on Amazon's free-to-watch, advertising-supported Freevee service. In Canada, the show will be seen on Prime Video.
Thousands of episodes of the Neighbours archive will be available to stream.
But here is the BIG question not addressed by the media release: How many episodes have been commissioned? Neighbours has been a nightly half-hour soap for the entirety of its run. Will it be returning in that format?
If I were a betting man, I'd expect 8-10 episodes with the show newly formatted as a weekly hour-long drama. 5 episodes a week for 40 weeks a year makes almost zero sense in a streaming environment - it's expensive with massive audience drop-off as viewers get overwhelmed by the need to catch up on a show when they miss a few daily episodes.
News about the look and feel of the Neighbours revival will undoubtedly become known as the series nears production early next year.
---
YouTube gets its own 'tudum'
Just as Netflix shows open with the distinctive 'tudum' sound and HBO viewers are welcomed to shows with the krsshhhhhh sound of its antiquated TV static intro, YouTube has now created its own ident sound. You can listen to it below and also read about it at The Verge.
---
Dan vs Twitter
My Twitter handle was engaged in a daily countdown to the release of the next Avatar film. And then when Elon Musk inflicted the revised Twitter Blue onto the platform, it froze my handle at 'Dan Barrett - 38 Days Until Avatar: Way of Water'. I wasn't able to update it for a full week after that (I found a hack yesterday afternoon).
This important news story has captured the hearts and minds of everyone. And it was only a matter of time until the mainstream media came calling. You can find some quotes by me in this BuzzFeed story by Chris Stokel-Walker.
---
The Marvel cinematic universe not to be found on Disney+
Sony has inked a deal with Amazon to bring multiple Spider-Man related shows to Amazon Prime Video.
Sony has kept Spidey in their orbit since the success of the 2000 Sam Raimi-directed film, making new Spidey films often enough to retain the rights. If Sony relax their interest in your friendly neighbourhood webslinger, the rights then return to Marvel.
Hence deals like this which will see Sony mine the Spider-Man IP and characters related to Spidey for multiple Amazon shows. The first will be based on spin-off character Silk, in a show to be produced by The Walking Dead producer Angela Kang.
Excelsior!
---
Put this on your Must Watch list
Yesterday Disney+ in Australia and Hulu in the US launched new series Fleishman Is In Trouble. Based on the book of the same name by Taffy Brodesser-Akner (she also adapted her own book for the screen, serving additionally as a first-time showrunner), the series harkens back to all of those mannered films we saw about New Yorkers involved in sophisticated stories of being an adult through the 70s-90s.
The show jas Jesse Eisenberg as a recently divorced father of two who is struggling with post-divorce life while revelling in his newfound world of app-based dating. One morning he wakes to find his ex (Claire Danes) has dumped their kids off at the apartment before heading off on a weekend yoga retreat. But what happens when she fails to pick up the kids or make any contact at all?
It's a smart, sexy comedy that is as cold and distant as it is warm and inviting for those of us who are drawn to stories like this of upscale New Yorkers.  
Adrian Horton from The Guardian:
Mundane, yet still potent. A frenetic Whac-A-Mole of everyday stressors propels Fleishman Is in Trouble. Who's going to pick up the kids from camp? What if your kid hates you? What if you impulsively fire the nanny, as Toby does in one of many fits of misdirected righteousness. Where did the time go? As several characters ask throughout the series: how did we get here?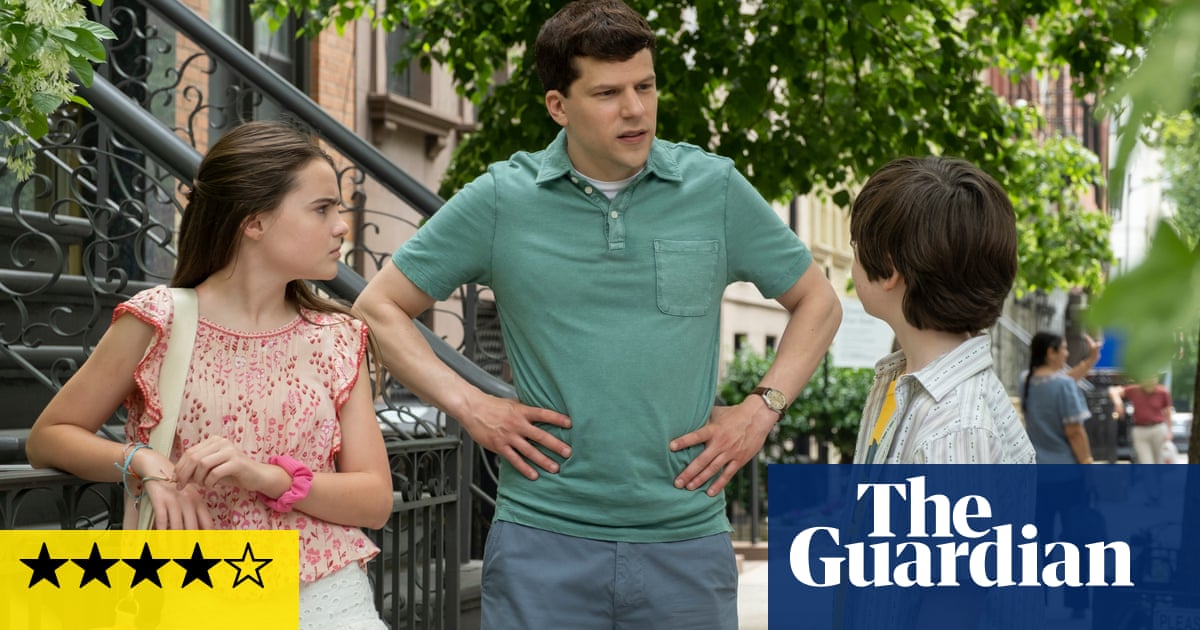 Quentin Tarantino has revealed plans to film an 8-episode TV series in 2023. He didn't give details on what it might be about or who he would be making it for. Read: Variety
Wow. Just one TeeVee snack today? Wild stuff.
Bel Air returns for season 2 Feb 23 on Peacock.
Letterkenny returns with season 11 Dec 25 on Crave in Canada. And Dec 26 on Hulu.
---
That's it for the week. Always Be Watching will be back next week for more newsletter. But, of course, there is the Always Be Streaming newsletter dropping into your inbox later today.