The last few years has seen streamers like Netflix and Amazon Prime Video push into the Academy Awards and Emmy races with a huge impact. But this past year was different. What happens to the Academy Awards when cinemas have been largely empty for the year thanks to the stupid virus? What do those awards start to look like?
Interestingly, not that different.
Just three of the 10 nominated films for Best Picture are pure streaming releases (CODA - Apple TV+, Don't Look Up - Netflix, The Power of The Dog - Netflix). You also have Dune and King Richard that were released by HBO Max day and date with theatrical releases, but no serious Oscar watcher would argue that those films made it into the list off the back of streaming availability.
This is the full list of the 10 nominated films for Best Picture:
Belfast
CODA
Don't Look Up
Drive My Car
Dune
King Richard
Licorice Pizza
Nightmare Alley
The Power of The Dog
West Side Story
What will be interesting now is to see how the ratings for this year's event go. One of the criticisms of the Oscars has been that the nominations tend to be for artier films that mainstream audiences haven't seen. And while the biggest film of the year (the latest Spider-Guy film) isn't nominated outside of a technical category, there are multiple films this year with a very high awareness. Thanks to streaming, viewers have seen Don't Look Up, Dune, King Richard, and (I guess) The Power of The Dog.
My criticism of the awards is that the best supporting performance of the year was unquestionably Bradley Cooper in Licorice Pizza (playing an extreme version of hair dresser-turned Hollywood producer Jon Peters). No nomination there. At least Licorice Pizza (the best film of the year) got a bunch of nominations. I wouldn't expect to see trophies awarded for it, however.
You can view the entire list of nominations here:
---
The return of Gumby!
Fox Entertainment has purchased the rights to Gumby from the estate of Joseph Clokey, son of Gumby creator Art Clokey.
What does Fox have planned? Obviously, it will set out to "reimagine" the Gumby franchise for a new generation. Expect live action and animated content. Also, classic episodes of Gumby will stream via the Fox-owned Tubi streaming service. Oh, and there will be non-fungible tokens (NFTs) and consumer goods.
All of that sounds swell. Except the NFTs, which can just go **** off.
Terms of the deal, which was announced in a release written in green Comic Sans font, were not disclosed.
---
Spend money to stay in a dog house
In yet another promotional stunt by Airbnb, a Brisbane home has been converted into the house from kids cartoon/cultural force Bluey. It will be available to rent for one weekend only.
I guess it's kind of fun. But I'd be far more excited renting out one of these 13 Airbnb listings of houses used in actual TV shows and movies. At least the Bluey house is just a short drive from my house, comparatively.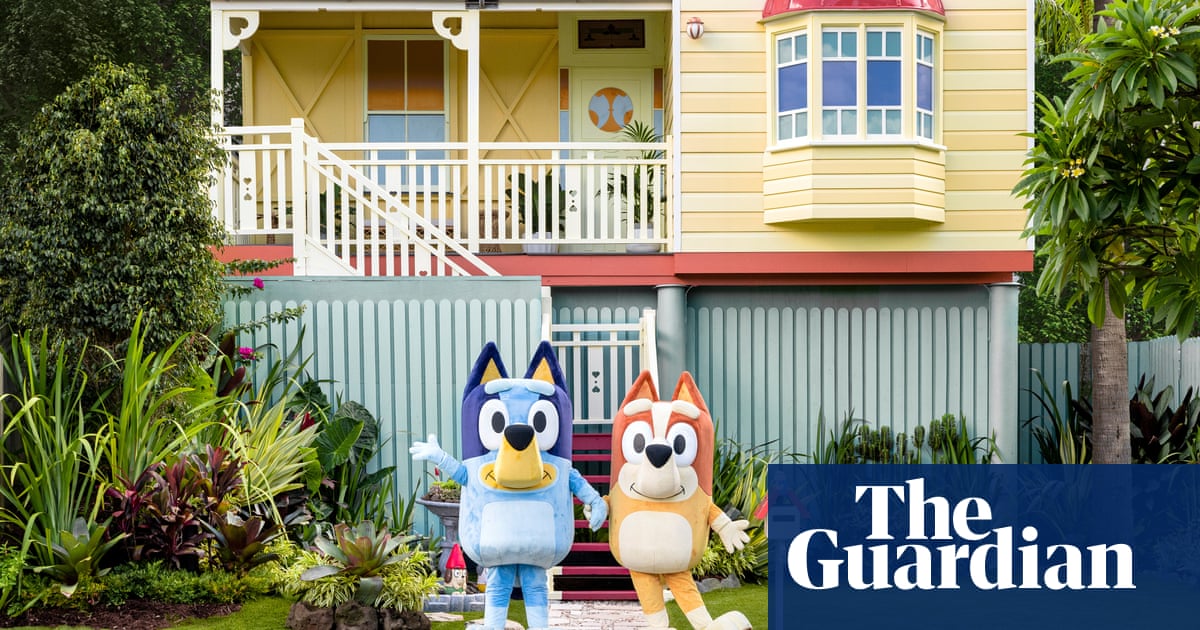 ---
Is Neighbours headed to ITV?
As per industry trade Deadline, "ITV has been tipped as the "natural home" for Neighbours by industry sources as Fremantle seeks a UK buyer for the 37-year-old soap.
Of course, as UK exec Michael Grade says: "One can really see it being ITV because where else would it go." And that's really the thing: does ITV want to make room for the show? As always, it will come down to whatever financial agreement can be found. Working in ITV's favour is that Fremantle don't really have a lot of viable alternative bidders...
---
How accurate is The Gilded Age re: the African American elite?
One of the real surprising elements of new period drama The Gilded Age is the inclusion of Peggy Scott, a young African American aspiring writer who comes from a family of privilege. It's a character that we haven't seen on screen much before, if at all.
But how accurate is it?
Sonja Warfield is a writer on the show, working alongside Julian Fellowes:
"I think the depiction of Black people in television and film, especially in that time period, is usually relegated to those stories about slavery," said Warfield, who is Black. "I have my own family stories, of great-grandparents who had some money, one of whom started a school. I thought, 'These are stories that haven't been told.' That's what really piqued my interest."
Peggy is a fictional character in the show (some characters are depictions of real life figures), but how accurate is she?
Peggy is not based on a single historical figure but is inspired by a number of real Black female trailblazers of the era. These include the renowned author and activist Ida B. Wells, who documented lynchings across the country and became one of the founders of the National Assn. for the Advancement of Colored People; Julia C. Collins, a Black teacher and writer from Pennsylvania whose incomplete book, "The Curse of Caste; or the Slave Bride," is often cited as the first novel published by a Black American woman; and Susan McKinney Steward, the first Black female doctor in New York.
---
Late 1800s TV rocks my early week
Tuesday nights became the late 1800s for me so quickly that I didn't even notice. Every Tuesday night I find myself on the couch watching back-to-back The Gilded Age (set around 1882) and western wagon train drama 1883. Both are telling distinctly American stories from two very different perspectives.
There's a fun piece at The Ringer that details just how different the shows are from one another.
On The Gilded Age, privileged and sheltered young ladies know next to nothing of sex and are forbidden to find out more. While Elsa roams the plains and sleeps under the stars with her cowboy beau, Marian can't leave her home without a chaperone, and the next-door neighbors' daughter Gladys is under virtual house arrest until her ambitious mother Bertha (Carrie Coon) makes a match that meets her needs. In the world of The Gilded Age, bearing a child out of wedlock is grounds for being banished from polite society, no matter how hefty one's bank account. Perhaps that's why marriage proposals come quickly on both shows.
---
China takes down Hollywood
The reason Hollywood movies can afford to cost hundreds of millions of dollars and deliver such big spectacle to the screen is because box office in China has been very lucrative. But, lately it has been harder and harder to book Hollywood movies into theatres in China, meanwhile local films are opening to HUGE box office.
Here's Erich Shwartzel, the author of new book Red Carpet - Hollywood, China, and the Global Battle for Cultural Supremacy:
I don't know if audiences don't want Americans there but it seems like the officials don't. Not only are American movies not doing well but the big ones are not getting in at all. And it's left a big fat zero in the China column on a bunch of big releases. What's frustrating for Hollywood executives is there's really no recourse. Chinese movies are making so much money. I'd imagine that it's a case where if you want to see a Chinese movie, you go to the theater. If you want to see a new American movie, you just pirate it.
TeeVee Snacks
Trailer Park
Life and Beth debuts on Hulu March 18. It stars Amy Schumer and Michael Cera and I really like the look of this one a lot.
Young Wallander: Killer's Shadow debuts on Netflix later this year.
Twenty Five Twenty One debuts on Netflix Feb 12.
The Girl From Plainville debuts March 29 on Hulu.
Conversations With Friends debuts in May on Hulu. It is based on the Sally Rooney novel of the same name.
---
That's it for today - tomorrow there will be yet another newsletter.