Yesterday I found myself watching a few minutes of The Love Boat. On screen came up a credit for series producer Douglas S. Cramer. Being very familiar with his name from countless on-screen credits over the years, I wondered why I didn't know more about him.
Today Douglas S. Kramer is dead.
A pure coincidence, obviously. But why don't we all know more about Douglas S. Cramer? He started his career in advertising, but in 1966 he became a TV executive. As vice president of television program development at 20th Century Fox he oversaw shows like the 1966 Batman show. In 1968 he moved over to Paramount Television where he oversaw shows such as Star Trek and Mission: Impossible. There, he developed Love, American Style, The Brady Bunch, and The Odd Couple. In 1971 he launched his own production company where he notably produced the Wonder Woman TV series.
His biggest impact on TV came from working for Aaron Spelling. As executive vp of Aaron Spelling Productions he was responsible for The Love Boat, Dallas, and Dynasty.
He also produced 20 of the 22 TV movies based on Danielle Steele's books.
On his work as a producer, here's Cramer in his own words:
"I was very hands-on, there was nothing I wasn't involved with. I worried about every performer, every extra, every piece of clothing that appeared on the set," Cramer said in his TV Academy chat. "I [also] was crazed about music. There was always more music on in my shows than anybody else's. Dynasty in its key days had 42 or 44 minutes of music in each 49 minutes. Dallas, I'll bet, didn't have 20."
Be sure to read through the extensive obit from THR below. But also take a moment to read about his contributions to the art world in an obit at Art News.
---
John Stamos supports Full House creator in lawsuit
Far more interesting than anything that ever happened on screen is the lawsuit filed by Full House creator Jeff Franklin. He was bounced from the Fuller House reboot series as showrunner following allegations of discrimination and inappropriate behaviour. Franklin is suing Bryan Behar, the man who replaced him as showrunner on the series. It is claimed that Behar orchestrated Franklin's ousting.
At the center of the lawsuit is a little black book. A journal, of sorts, that Behar had compiled that supposedly detailed the bad behavior. Now series star John Stamos has issued a declaration that supports Franklin.
"I then asked him about the 'little black book' and Mr. Behar immediately denied any knowledge of it," says Stamos. "I recall feeling very uneasy during this discussion as Mr. Behar became jittery and nervous. Shockingly, at the very end of our meeting, Mr. Behar impulsively pulled out a black journal and showed it to me. … I saw that the journal contained photographs which appeared to have been taken at a party at Mr. Franklin's house. Mr. Behar did not explain why he had the journal, why he brought the journal to our meeting, why he initially denied having it, why he decided to ultimately show it to me, or why he was keeping it in the first place."
If there isn't an eventual TV movie based on a New York Times bestseller about this behind-the-scenes drama, I'll be very disappointed.
---
Splendour in The Grass goes virtual
It's an institution for the young folk of Australia - the Splendour in The Grass music festival. Every year it has an incredible line-up of international and local bands. With the stupid virus still making it irresponsible (and financially risky) to stage a music festival, this year Splendour is avoiding last years clusterf*ck and is taking the event online. Music fans can stream performances on their screens or via VR headsets.
Early-bird tickets are $19.99 for a single-day ticket and $34.99 for a weekend ticket. After June 10, that price will go up.
A spokesperson for the show told us artists would feature in different ways during the show. Each will have pre-recorded their set specifically for the festival, but some will be appearing on screens and others using "cutting edge technology". We haven't seen any of the show for ourselves so just bear that in mind. Appearing on Sansar should mean the festival runs smoothly from a social perspective, but we're yet to see a live music performance that really captures the in-person experience. That doesn't mean they're without merit, though.
---
TeeVee Snacks
---
Oh, what's this....
---
Watch telly together like in the olden days
At Apple's WWDC event a few hours ago, the company announced a new feature called SharePlay. It will let users making FaceTime calls watch TV and movies together.
This new feature will work with all kinds of content including movies, TV shows, and music across many different apps. As of right now, Apple has partnered with Disney Plus, HBO Max, Hulu, Twitch, Paramount Plus, ESPN Plus, MasterClass, NBA, PlutoTV, and, of course, Apple TV Plus. (Netflix was notably absent from the roster.) Music users will be able to stream through Apple Music. iOS users will even be able to watch TikTok videos in the same FaceTime call as well.
---
Gimme gimme gimme
This appears to be courtesy of Readful Things - and no, I don't believe you can buy any of these IRL. But, there is a lot of great merch over on Etsy: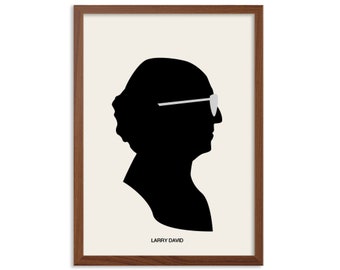 ---
A fun look at Avengers Campus
I get a real kick out of theme parks and have been very interested to see what Disney has done with its new Avengers Campus that it has opened this week for Disneyland.
---
Loki Charms
Speaking of Marvel, the new series Loki debuts on Wednesday. As a promotional tie-in, fans can but a limited edition cereal - Loki Charms.
General Mills and Marvel will release 3,500 boxes of Loki Charms through a dedicated website, MischievouslyDelicious.com, at 11 a.m. EDT/8 a.m PDT on June 9. Boxes cost $8 each, while supplies last, of course. If you head to the website and crack the code there, you might be able to secure a box early.
---
The first eight minutes of In The Heights
---
The Amusement Park launches on Shudder
Back in 1973 the Lutheran Society wanted to make a movie about elder abuse and ageism. They went and hired director George A Romero. Prior to being hired, Romero had made four movies - three horror films (including the iconic Night of The Living Dead, the movie that defined zombies on film) and one romantic comedy. Who knows what the Lutheran Society were thinking (!), but they did not care for the movie Romero delivered.
They put the movie on a shelf and there it sat until recently where it was unearthed and given a 4k restoration. The film, about an elderly man who goes to an amusement park only for the day to become a hellish nightmare, is set to start streaming later this week on Shudder. To launch the film, Shudder are hosting a live streaming followed by a panel conversation
The screening will be available to Shudder members via the Shudder TV feed in the U.S. and Canada on Tuesday at 8:05pm ET, as well as on demand to Shudder members worldwide. Immediately following at 9pm ET on Shudder TV and on Shudder's YouTube channel, the panel "Reviving Romero's The Amusement Park" will feature a conversation between Suzanne Desrocher Romero, founder and president  of the George A. Romero Foundation; award-winning horror author and educator Tananarive Due (Horror Noire); author Daniel Kraus, who completed Romero's posthumous novel, The Living Dead; Fangoria editor-in-chief Phil Nobile Jr.; and  Sandra Schulberg, president and executive director of IndieCollect who supervised the film's 4K restoration. The panel will be moderated by Shudder curator Samuel Zimmerman. Fans are encouraged to join the conversation with @Shudder during the film and panel using the hashtag #TheAmusementPark.
---
Trailer Park
KATE debuts on Netflix Sept 10.
Blood Red Sky debuts on Netflix July 23.
No Sudden Move debuts on HBO Max July 1.
The Last Mercenary debuts on Netflix July 30.
Generation 56k launches on Netflix July 1.
Jiva! launches on Netflix June 24.
The 8th Night debuts on Netflix July 8.
---
What's next? Tomorrow.