Russell T Davies, the creator of progressive series QUEER AS FOLK and IT'S A SIN spoke at a recent Pride Month panel talk where he criticized streaming services for simply paying lip service to gay themes and characters. He singled out the recent LOKI series where the titular god of mischief referenced his bisexual interests.
And he's got a point. I say: always be skeptical of any large corporations who purport to be pushing progressive agendas. Their agendas and your own are rarely ever the same.
"I think huge, cleaning warning bells are ringing as the giants rise up with Netflix and Disney Plus especially," Davies told the online panel.

He continued: "I think that's a very great worry. Loki makes one reference to being bisexual once, and everyone's like, 'Oh my god, it's like a pansexual show.

"It's like one word. He said the word 'prince', and we're meant to go, 'Thank you, Disney! Aren't you marvelous?'

"It's a ridiculous, craven, feeble gesture towards the vital politics and the stories that should be told."

Davies added that his "worry" about the future of LGBT+ stories on TV is that streaming services will "damn us" with "their condescension in the end".
---
THE WHITE LOTUS back for season 2
I didn't expect the show to be so polarizing, but HBO's THE WHITE LOTUS has proved to be a true love it or hate it viewing experience. I've been loving it - the show is an absolute mood piece and I've fallen for its charms bigly.
The good news is that HBO has greenlit it for a second season. But, don't expect to see any of the original cast or even the hotel back again for the new season (especially with one of the cast leaving in a body bag). It sounds like it isn't practical to film in the same hotel again. Here's creator Mike White:
We would go somewhere different because there's no way we could be able to afford the Four Seasons in Maui, not in a pandemic.

So yeah, it would have to be The White Lotus: Kyoto or something. Which would be fun too, because we could get into culture clash ideas and stuff like that.
---
TeeVee Snacks
---
It's not TV. It's Nestflix.
What if every fake movie referenced in a TV show or movie was available to stream? That's the premise behind Nestflix. It's as though a Wikipedia list of these fake movies has been visually birthed into the real world. It's a really fun art project.
And no, there isn't yet a listing for ROCHELLE ROCHELLE, the 90s art film (and later a Broadway play) that told the story of a young girl's strange, erotic journey from Milan to Minsk...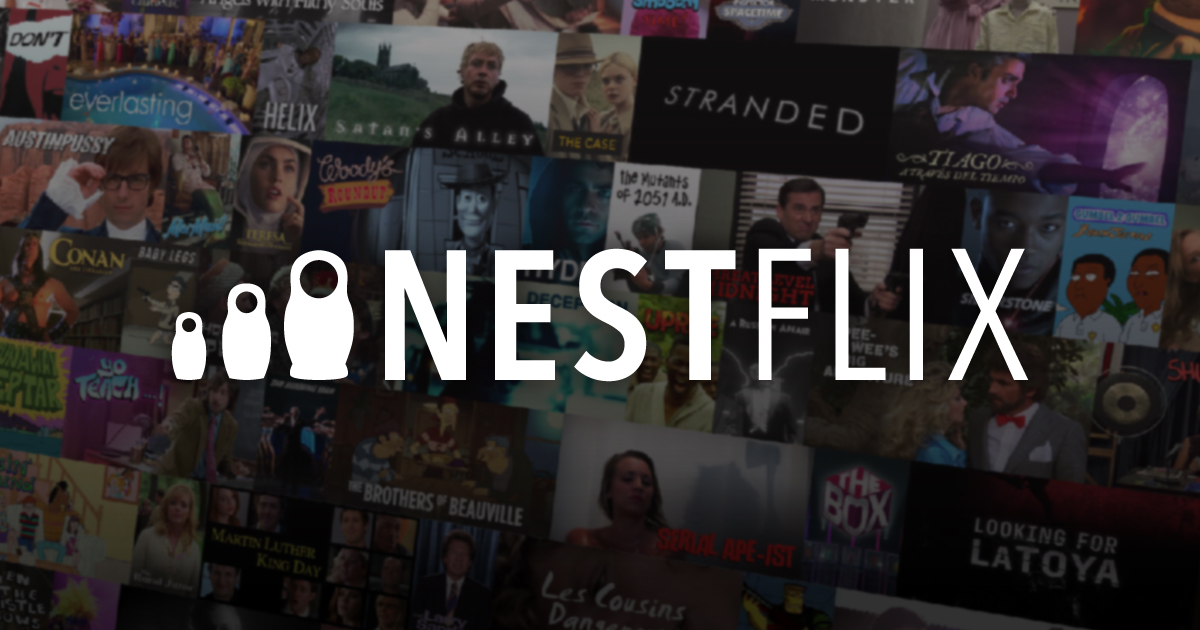 ---
Get the jab
Someone who got themselves a COVID-19 infection: PARTY DOWN star Adam Scott.
I got my second Pfizer shot back in June. Magnets didn't stick to me. My 5G reception is as poor as it ever was. I also avoided a day or two of feeling unwell. In fact, nothing happened to me except it gave me some resilience to COVID-19. Get the jab.
---
Trailer Park
THE OTHER TWO returns to HBO Max on August 26.
The animated remake of NIGHT OF THE LIVING DEAD - NIGHT OF THE ANIMATED DEAD debuts September 21 direct to digital.
SQUID GAME debuts September 17 on Netflix.
LUCIFER returns Sept 10 with its final season on Netflix.
CLICKBAIT debuts August 25 on Netflix.
JJ+E debuts September 8 on Netflix.
ALL OR NOTHING: TORONTO MAPLE LEAVES debuts on Amazon Prime Video Oct 1.
AUSTRALIA UNCOVERED debuts on SBS September 12.
---
What's next? Tomorrow.