The Queen of Dragons boards Marvel's Secret Invasion
Following news yesterday that Olivia Colman is joining the cast of new Marvel TV series Secret Invasion comes news of another big name cast addition - Game of Thrones breakout star Emilia Clarke.
The series is said to follow a group of shape-shifting aliens who have been infiltrating Earth for years.
What's kind of interesting about Secret Invasion is that its is the first Marvel project, film or TV, that isn't based around a character or team - it's more a premise. They're clearly going big with well-known cast members to drive attention to the show.
And, frankly, if WandaVision and The Falcoln and The Winter Soldier are anything to go by, the Marvel TV series are proving to be far more interesting than its movies have been.
Read: Variety
---
Netflix to spend $17 billion on content this year. Hopes to drive subscriber growth.
Streamer Netflix will spend $17 billion on content through 2021, which is in line with its 2020 expenditure. Meanwhile Disney+ is expected to be spending in the $8b range over the coming years.
Read: Deadline
Netflix know that spending on content means attracting subscribers. Without a large volume of new content generating buzz, sub numbers will start to stall. Proof of this comes with its Q1 financial statement released today showing that subscriber growth has stalled. Imagine how embarrassed Netflix must be in announcing that this quarter they only added 450,000 subscribers in the U.S. and Canada, and another 1.81 million through Europe, the Middle East, and Africa (EMEA).
Those are still strong subscriber numbers - it just falls short of expectations by about 2 million subscribers. Netflix blame its pandemic-driven light content offer, mixed with unrealistic expectations caused by the subscriber surge during the early months of COVID.
This is the first time Netflix haven't met expected subscriber forecasts since 2013.
Read: The Streamable
---
Should you buy a new Apple TV?
A new Apple TV has been announced. It'll be released in stores next month. What's different? It now supports high frame rate HDR (high dynamic range) and Dolby Vision video. Oh, and it has a new, better remote control.
The hardware upgrade is thanks to the inclusion of the A12 Bionic chip in it, enabling better video and sound quality. A lot of people have complained about the Apple TV remote control since its release (I've never had too much of an issue with it, myself). The new version ditches the trackpad at the top in favor of an old-school iPod style wheel that can be used to fast forward and rewind. That actually sounds a bit neat.
But not so neat that it warrants buying a new Apple TV device. They're not cheap. Even buying the new remote control costs more than buying a Google Chromecast with Google TV dongle that comes with a remote control.
That said, I do love my Apple TV. I still have the high definition Apple TV (I don't yet have a 4K TV yet… my current TV just won't quit), but the hardware continues to perform very well.
Unless you're in the market already for a new streaming device, or are especially keen on the HDR capability of the new unit, you're probably best off not upgrading just yet.
Read: Variety
---
TeeVee Snacks
Don't expect Stranger Things 4 until 2022. Read: Uproxx
Those plans for a European Super League are rapidly falling apart with high profile teams dropping out. Read: Deadline
The new Paul Thomas Anderson movie (still untitled) will hit cinemas in November this year. Read: Indiewire
Person of Interest star, and one-time movie Jesus, Jim Caviezel has been lost to the QAnon brigade. He was heard during a conservative conference talking about "the adrenochroming of children". Source: Complex
Martin Scorsese has started production on the upcoming crazy expensive ($200 million) Apple TV+ movie Killers of the Flower Moon. Source: /Film
Mare of Easttown has debuted to a million views on HBO Max, which is down on Joss Whedon's The Nevers launch last week. Read: Variety
---
Watch the first 8 mins of Mortal Kombat
The new Mortal Kombat movie is released in cinemas later this week (and also onto HBO Max in the US). Reviews have so far been good and Warner Bros are clearly encouraged enough to put the first 7 mins online for free.
On a related note, director Simon McQuoid joins us on the Screen Watching podcast this week. Look out for that podcast at the very end of the week.
---
Trailer Park
Ted Lasso returns to Apple TV+ for its second season from July 23.
The Upshaws debuts on Netflix May 12.
A working-class family in Indiana struggles to make it work and make it right without the blueprint to do it.
Alex Gibney's Crime of The Century debuts on HBO May 10.
Directed by Alex Gibney, the two-part documentary is a searing indictment of Big Pharma and the political operatives and government regulations that enabled over-production, reckless distribution and abuse of synthetic opiates.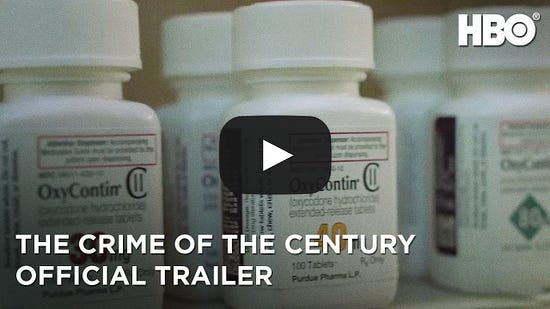 Adventure Time: Distant Lands debuts on HBO Max on May 20.
---
What's next? Tomorrow.