My viewing has been very nostalgic of late. Maybe it is my ongoing frustration with the sorts of movies being released into cinemas these days (big expensive spectacle or smaller budgeted indies - but what I love is those star-driven mid-tier films... the relationship dramas, the comedies, the courtroom dramas, etc), or a weird side-effect of having a toddler in the house prompting a reminder of experiences of youth, but a lot of my viewing has been of the films I watched as a child and into my teens.
One of the films I have been keen to revisit is Splash, a film I haven't seen since the mid 90s. The film is sitting right there on Disney+ to watch, but Disney stripped the film of its appeal by covering Daryl Hannah up. You may remember a year or two ago the outrage that they went back into the film and using CGI, changed her hair to now run down beyond what was a previously naked bare behind.
It isn't as though I am so desperate that I need to see the mermaid's butt. I can imagine what it may look like quite easily. But something rankles about the fact the film was censored and that it was for something so silly that it just robs me of any real desire to click play.
Good news today, however. Disney+ now has a shiny new 4k transfer of the film available to stream and it has restored the film back to what it was. Maybe, just maybe, I will click play on the film this weekend.
Source: CBR
---
Is Star Wars to blame for Andor not being bigger?
Andor has proven itself to be one of the surprise really great shows of the year. But is the fact that its quality is such a surprise part of the same reason why the show hasn't been a huge hit?
Could it be that after a couple of not-great Star Wars shows (the awful beyond belief Boba Fett show and the disappointingly middling Obi Wan) that our expectations for these shows is that they're more of an obligation-watch than something we are genuinely impressed by?
Andor is very good. Impressive at times. And yet it just hasn't found the mass audience it should have.
"I think I was surprised," the "Andor" showrunner said in a recent interview with Variety. "I thought the show […] would have this gigantic, instantaneous audience that would just be everywhere, but that it would take forever for non-'Star Wars' people or critics or my cohort of friends to get involved in the show. The opposite happened. We ended up with all this critical praise, all this deep appreciation and understanding from a really surprising number of sources, and we're chasing the audience."
---
TV went meta in 2022
No, not meta like Zuckerberg's efforts to control the future of virtual computing, but metatextual. Leila Jordan at Paste has noticed that there were an awful lot of TV shows that had commentary to make about the state of TV and of their own specific shows this year, citing She Hulk, Barry, and more:
And not all critiques have equal purpose. She-Hulk isn't trying to change the formula for the MCU, it's just arguing that more is possible when you have such a hold over pop culture. Kevin Can F-k Himself wants the audience to rethink the tropes they've accepted, not destroy the sitcom entirely. Rebootand Barry are more active in their desire for people to understand the absurdity of the situation, but the problems in streaming also add texture to the stories they're telling. If everything was transparent and made sense, we couldn't have Vanessa Bayer make incomprehensible noises!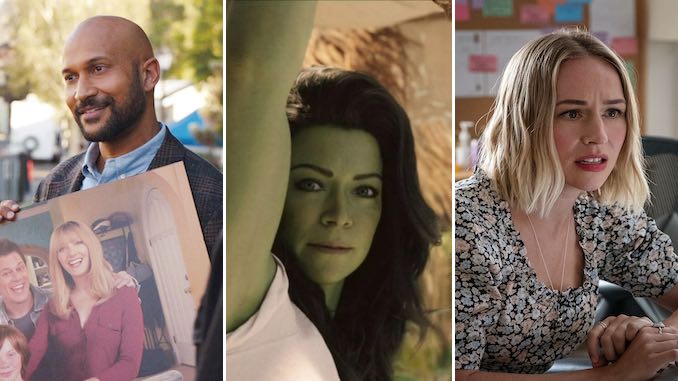 ---
Noted awful person Candace Cameron Bure is awful
Earlier this year Candace Cameron Bure, star of Full House, left Hallmark where she has starred in and produced a lot of TV movies over the years and has set up a new deal with the cable network/media company that is now branded as Great American Family.
In an interview with the Wall Street Journal, she explained concerns that Hallmark has gotten too darn woke and that she wants to:
...tell stories that have more meaning and purpose and depth behind them.
What she really means by that is that she isn't happy that Hallmark is making movies that feature gay and lesbian characters. It offends her religious sensibilities.
I'm always deeply confused by anyone who works in the arts that is revealed to be homophobic - who do they think is making, well, pretty much everything in the arts. Who does Candace think is working alongside her looking after make-up artists, costumers, set designers, lighting, cinematography, writing, directing, etc etc etc
Something From Tiffany's debuts on Amazon Prime Video Dec 9.
Qala debuts Dec 1 on Netflix.
A Man of Action debuts on Netflix Dec 30.
First Love debuts Nov 24 on Netflix.
Black Snow debuts Jan 1 on Aussie streamer Stan.