Netflix chief Ted Sarandos on the Dave Chappelle stand-up special:
"With 'The Closer,' we understand that the concern is not about offensive-to-some content but titles which could increase real world harm (such as further marginalizing already marginalized groups, hate, violence etc.) Last year, we heard similar concerns about '365 Days' and violence against women. While some employees disagree, we have a strong belief that content on screen doesn't directly translate to real-world harm."
Wait - did Ted Sarandos just tell the entire Hollywood creative community that nothing they put in their shows or movies have real-world consequence? Despite that not being true, there is going to be a whole lot of creatives who will suddenly be questioning their relationship with former ally Netflix.
---
Tiger Queen
Tiger King breakout star Carole Baskin is getting her own show which will have her investigating the treatment of the tigers at Joe Exotic's park.
Carole Baskin's Cage Fight documents Baskin and her team who, with the help of retired homicide detective Griff Garrison, investigate the property for lingering evidence of animal trafficking and abuse treatment. Discovery+ promises that viewers will see "many shocking moments."

During the search, Baskin also enlists help from Joe Exotic's niece, Chealsi, who spent much of her childhood working at G.W. Zoo and has first-hand knowledge of what went on behind the scenes. Chealsi directs Baskin and the investigators to different areas around the zoo in pursuit of evidence such as animal remains.
---
YOU WILL NOT SEE ANYTHING BETTER THAT THIS
Maybe my expectations are low for puff-piece local news stories, but this story about skate parks ends with the most fantastic piece to camera you'll see this decade.
---
Get ready for more Jack Ryan
Jim from The Office is back as Jack Ryan for a third season of the show, which is set to debut on Amazon Prime Video sometime soon. It has finished production.
But that's not the news today. The news is that Amazon Prime Video are doing something brave and absolutely unexpected: They looked at their most successful ongoing series and said "You know what - let's just go ahead and make another season."
Bold.
It'll be back for a fourth season. Joining the cast will be Michael Peña.
Season three sounds like it'll be Tom Clancy-style fun:
Season 3 finds Jack Ryan (Krasinski) on the run and in a race against time. Jack is wrongly implicated in a larger conspiracy and suddenly finds himself a fugitive out in the cold. Now, wanted by both the CIA and an international rogue faction that he has uncovered, Jack is forced underground, crisscrossing Europe, trying to stay alive and prevent a massive global conflict.
---
Abortion. As seen on TV.
My Google calendar tells me that 15 October marks International Pregnancy and Infant Loss Remembrance Day.
Tanya Melendez at Vox has a really fantastic article that examines the subject of abortion and how it has been depicted (largely since the 80s) on US TV. It covers the expected material, such as 70s feminist sitcom icon Maude having an abortion, through to abortion storylines in shows like Greys Anatomy.
Obviously, this is a sensitive subject matter. The article is very much a TV history-orientated article, but I appreciate that today may be a difficult one for some people, so maybe bookmark this piece to read at a later time. It's a good, interesting article worth your time.
TeeVee Snacks
---
Squid Game's one-incher
There has been a lot of conversation about subtitles following the success of Squid Game on Netflix. Much of it framed around the idea that the subtitles on Squid Game aren't accurate and they lose a lot of information that is relevant to the thematic ideas of the show.
One of the best articles about this comes by way of Viv Groskop at The Guardian:
The debate around Squid Game's subtitles has performed a service, though, in revealing the difference between subtitles, closed captions and dubbing. Netflix's algorithm sets your choice automatically to dubbing, which is why if you click on any foreign language content, the actors will mysteriously appear on your screen speaking fluent American English that almost-but-not-quite matches their mouth movements. "Closed captions" were initially devised for deaf viewers and include audio description. ("A door slams.") The dialogue used on closed captions is usually a direct transcript of the dubbing script. Subtitles use another script entirely. These, too, are subject to constraints: the translation has to fit across the screen and correspond to a preset reading speed. But they are often seen as a more accurate translation than the dubbing script. Subtitling legend and film critic Darcy Paquet, who worked on Parasite, tweeted: "I didn't do the subtitles for Squid Game, but note that for this show there are two sets of English subtitles. There are the "real" English subtitles, and there is the transcription of the dubbed version [closed captions]. Choose the real subtitles!"
Personally, I'm curious about the resources invested in the translation of Squid Game. I noted in my review of the show on the Screen Watching podcast that the quality of the dubbing wasn't especially good with lots of bad voice acting. Netflix didn't expect Squid Game to be the success that it was, so it seems likely to me that they didn't invest the time and money into the dubs and subtitles necessary to elevate the production.
For what it's worth, I'm generally okay with people watching it with dubs. Purists may be aghast at that, but I say it is a positive if that opens up the show/movie to a wider audience - subtitles are somewhat elitist and aren't an accurate reflection of the original intent of the show/movie anyway.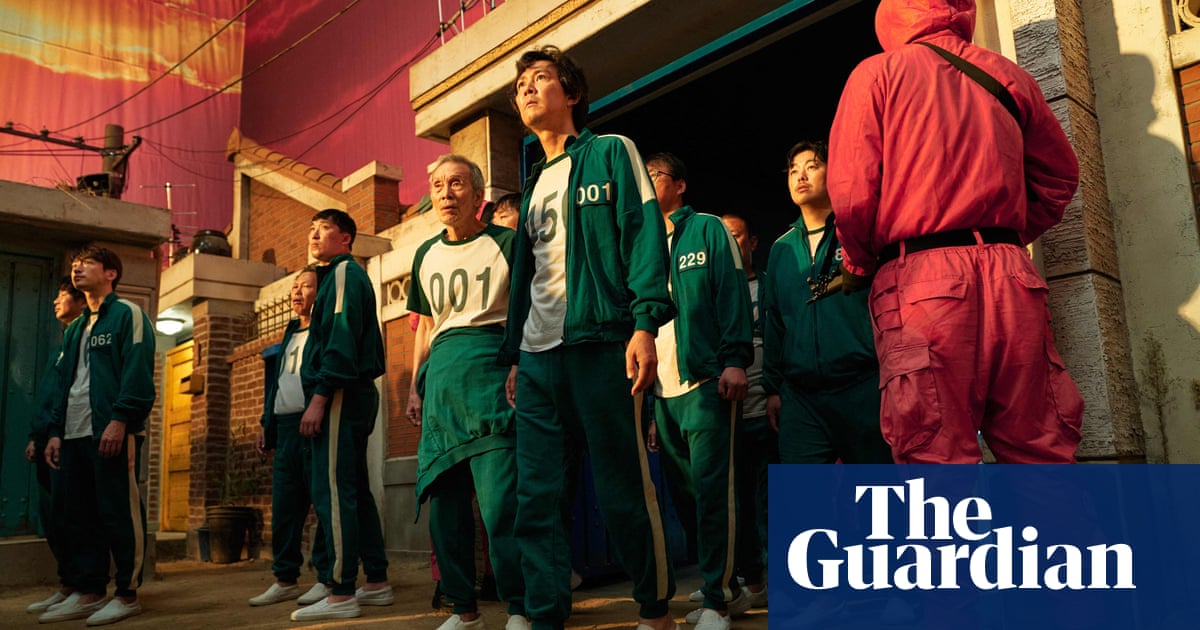 ---
Trailer Park
The Sex Lives of College Girls debuts Nov 18 on HBO Max.
Hawkeye debuts Wednesday Nov 24 on Disney+ with a double episode. Boy do I hate these mid-week Disney+ releases - the shows feel so much less special than when you have them there to kick off your weekend.
Spanish series Paradise debuts Oct 28 on HBO Max.
Women Is Losers debuts on HBO Max Oct 18.
The Price of Freedom debuts on HBO Max Oct 19.
Halle Berry stars in Bruised on Netflix Nov 19.
Coming to Amazon Prime Video in 2022 - Arsène Wenger: Invincible.
The Tender Bar is a new movie directed by Batman George Clooney and starring Batman Ben Affleck. It debuts in cinemas in December and Amazon Prime Video Jan 17.
Swagger debuts Oct 29 on Apple TV+.
Komi Can't Communicate debuts Oct 21 on Netflix.
---
What's next? Tomorrow.