The world feels exhausting right now and TV is just amplifying it all. I'm in a city that is mopping up after considerable unexpected flood damage - yesterday's TV coverage was fairly strong, with networks dumping regular programming. Overseas pressure mounts against Russia over the Ukraine incursion, which is also playing out through the media in many ways. And the shadow of The Batman looms. That is where we begin today's ABW newsletter:
Have you ever danced with the devil in the pale moonlight?
Reviews are in for The Batman. Right now it is sitting at 90% fresh at Rotten Tomatoes, that's just 9% short of great films like Paddington 2.
From what I've read so far, the general consensus seems to be that the film does a lot of things right, but doesn't push itself far enough to bring anything that is new or different. Some reviews have called it the best Batman movie yet, which may be true. But also, after however many Batman movies, books, and TV shows, how far can a movie go to deliver an entirely fresh take on the character without it stretching audience interest in the Bat-Guy too far? Reviews seem to be balancing that idea, while also struggling with superhero fatigue (an issue only really a problem for movie reviewers and some vocal tweeters - box office receipts suggest these are the only movies audiences will turn out for).
Justin Chang, LA Times:
It's a movie of alternately promising and frustrating half-measures, in which Reeves' shrewd storytelling instincts and the usual franchise-filmmaking imperatives repeatedly fight to a draw. The tone of "The Batman" is often unpleasant in ways you'd expect from a serial killer yarn, but too often Reeves teases violence, only to cut abruptly and confusingly away from it; minus the shackles of a PG-13 rating, this movie might peer more persuasively — and courageously — into the darkness that it so insists upon.
Joshua Rivera, Polygon:
Fortunately, The Batman's detective story structure means he's mostly an offscreen puppetmaster, and as ridiculous as he appears, everything else in The Batman looks incredible, as ambitiously staged fight scenes unfold in a city draped in shadows and streetlamps. The film is only hard to parse during one of its most ambitious set pieces, a car chase that attempts to give its pursuit the physicality of a fistfight, with close shots and weighty collisions. It's a failure of ambition in a movie that mostly has none, because the cinematic vision of what Batman can be has become terribly narrow.
---
Uh, maybe 1883 just finished for good
If you haven't seen the finale of 1883, stop reading now. But also - what are you waiting for?
There was something startling watching 1883 over the final two episodes of the first season(?): the show sure did seem to be saying goodbye to most of its characters, highlighting the harshness of living out west during the era.
Watch that final episode of season one and it was very final. Could there even be a second series, as has been announced just weeks ago by Paramount? Here's Taylor Sheridan on the subject of whether he can keep up with the demands of producing so many shows for Paramount, but also his intentions with 1883:
I'm grossly overtaxed. It's impossible, what they're asking for. But it was impossible what they asked for last year. I don't know what else to say. But…the goal with 1883, I wanted to tell this really abstract odd structured story. If you were paying attention, I tell you exactly what was going to happen, in the first scene of the first episode [to Elsa and Shea]. And then hopefully made you fall in love with the world, and forget that stuff, and play with your expectations that there's no way what I've already told you could actually happen. To play with structure that way, felt like a new rollercoaster ride for an audience, and hopefully a really reflective and beautiful one. We wanted to make a ten-hour movie that ended, and that's what we did.
It was fascinating watching an open-ended series suddenly reveal itself to be a limited series. The end is far more satisfying than most shows and was a heartbreaking thrill to watch at times. I hate when TV showrunners refer to making a "ten-hour movie". TV is serialised drama.
Here, Taylor Sheridan has crafted a 10-hour limited series and it's a rather good one.
---
Will Netflix be forced to stream Russian propaganda from next week?
Last year Netflix was added to a register of "audiovisual services" overseen by Russian regulator, Roskomnadzor. The rules come into effect from March 1 and it means that the streamer may be required to add broadcast streams of 20 federal Russian stations. These channels include: Channel One, NTV and a channel run by the Russian Orthodox Church, Spas.
The requirement to broadcast these channels applies to any streaming service that has over 100,000 daily users. Amazon Prime Video also operates in the country, but doesn't have that level of viewership to qualify for the requirement.
Serving on the board of Channel One in Russia is a number of close political allies of Putin - top spy Chief Sergey Naryshkin and Putin's first deputy chief of staff Alexey Gromov. Gromov is a busy guy who manages both the production of state propaganda as well as overseeing the censorship program.
Right now, Netflix says that it will not comply with the demand.
---
Meanwhile in the UK...
UK media regulator Ofcom has announced it has 15 individual investigations underway into the broadcast of RT in the UK.
The unprecedented scale of the investigation into RT, which relates to 15 editions of the channel's hourly news headlines programme broadcast on Sunday, suggests Ofcom has grounds to believe RT has consistently failed to meet this standard in relation to coverage of the war in Ukraine.
Ofcom may force RT off the air in the UK, but it would not be able to prevent RT from streaming in the UK.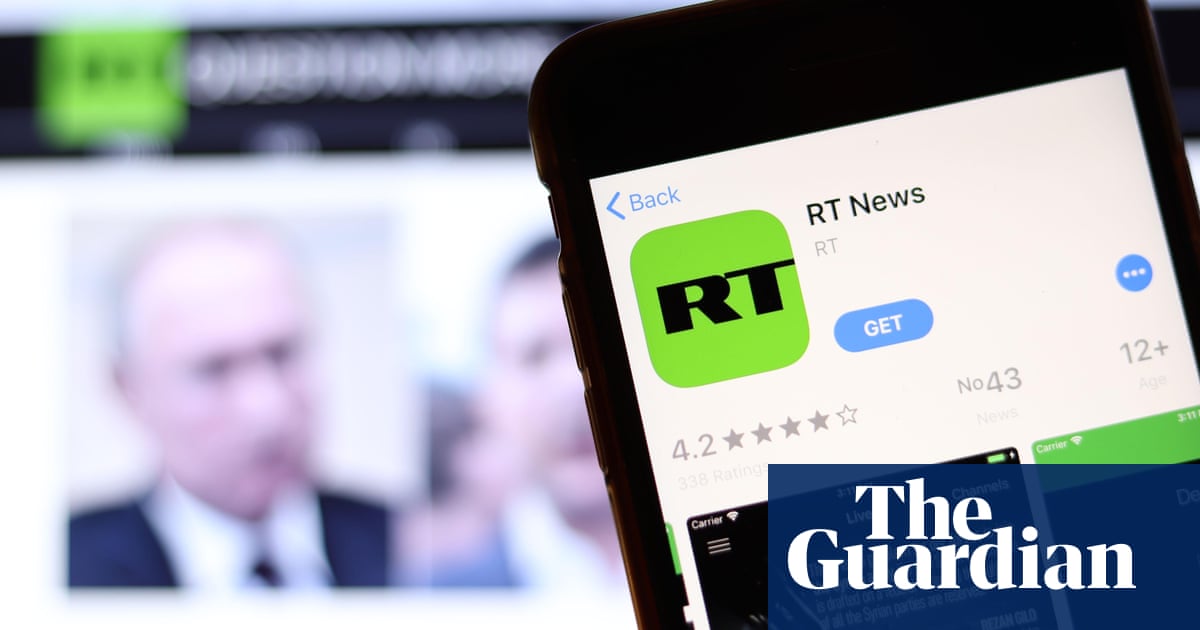 ---
The Shop moves to new location on YouTube for foot traffic
One of the real quiet gems on HBO is The Shop. Produced by LeBron James, episodes feature unscripted conversations between predominantly African American stars from music, sports, politics, TV, film, and beyond discussing the broader issues that confront them in their lives. It's a funny, vibrant, interesting chat show.
Or at least, it was on HBO. With the launch of its fifth series, the show is on the move to a new home YouTube.
The fifth season of TheShop with guests with Donald Glover, J Balvin, Quinta Brunson and Lamar Jackson drops the morning of March 4 on Uninterrupted's YouTube channel.
TeeVee Snacks
Trailer Park
The Baby debuts April 24 on HBO.
---
That's it for today. Stay safe.