Always Be Watching is primarily dedicated to TV (streaming and broadcast), but with an eye to other things we enjoy on screens. This past two years there has been a lot more movie coverage creeping in.
This is mostly due to the bleed happening between the two forms. Not only are TV shows resembling movies more and more in terms of production value and star power, but movies feel more like TV, with the MCU's interconnected storytelling. Plus then there are now all the TV shows tied into movies. And the shrinking of cinema exclusivity getting movies on streaming services very quickly.
Last week I shared my top 10 TV shows of 2021. With film now playing a bigger role in this newsletter, I wanted to share my top 10 movies.
10) Plan B
This was the dumb, goofy comedy that won my heart this year. Directed by Natalie Morales (if you don't know her by name, you will almost certainly know her by face after an extensive career appearing, and sometimes starring in, US TV comedies), the film follows the adventures over one night of a pair of teenage girls trying to get their hands on the morning after pill in a US state where it is outlawed for under 18s without guardian permission.
It was one of the few really great laugh out loud comedies of the year. With a release direct to Hulu, the film missed getting a cultural moment in the way that other similar recent films like the less-good Booksmart did. But it's a comedy worthy of your attention.
It would have been nice if this film got a release outside of the US.
Watch: Hulu
9) The French Dispatch
Wes Anderson's latest film feels less vital than his other films. I appreciate that he has his detractors, many who would scoff at any of his films considered as vital. But those folks can go jump in a lake. Where the film feels less essential is that this is an anthology film. Its connective tissue being that the collection of short films is told from the perspective of writers penning stories for a New Yorker-like publication in France.
Too many of the stories are told in black and white and I don't really understand why. Wes Anderson is best served with a color palatte. But the animated sequence at the tail end of the film more than makes up for some of the films less-than-dynamic visuals.
8) Beckett
John David Washington stars as a US tourist who is accidentally caught up in something that he doesn't understand. It results in trained killers chasing him through regional Greece. The film has strong echoes of Antonioni's 1975 film The Passenger, but with guns.
I can imagine a lot of Netflix viewers feeling frustrated by this film, which is a largely dialogue-free movie with John David Washington literally bumping into obstacles as he moves from location to location trying to make sense of his situation. But if it strikes you in the right time, this is one of the few really memorable Netflix movies.
Watch: Netflix
7) Licorice Pizza
Paul Thomas Anderson made a welcome return to the San Fernando Valley with his latest film about a relationship between a charismatic wannabe actor teen hustler and a young woman in her mid 20s who finds herself in his orbit unable to escape.
The film is fairly disjointed, taking place over a couple of years, with the two bouncing throughout different life experiences against the backdrop of LA in the late 70s.
It's fun and flighty. Run, don't walk.
Watch: In cinemas now.
6) Those Who Wish Me Dead
In any other year, I don't think this film would make my list. It's an Angelina Jolie-led thriller about a parks officer who is looking after a young boy who is being hunted by some trained killers in a forrest with an oncoming fire.
Taylor Sheridan wrote and directed the film and in a fairly light-on year for new and interesting cinema releases, this stood out by being a rather good example of the sort of thriller that used to dominate cinema screens in the past. It's a throwback, but boy did it feel thoroughly welcome.
Watch: Digital rental
5) Derek DelGaudio's In & Of Itself
Yeah, I can't believe a filmed magic show is making my list either. But this filmed concert is an EXPERIENCE. You will start this show with scepticism. It is a bit dumb and just too stagey. But by the end of this 90 minute concert movie, you will believe in magic.
Watch: Hulu
4) The Summit of The Gods
Animated movies don't usually make my best-of lists, but this one is stunning. A French film, based on a Japanese manga comic, the movie follows a photo journalist who joins a mountain climber in an effort to climb Everest. The mountain climb represents a life of ambition and setbacks.
The animation is sophisticated and the storytelling mature. There's one specific sequence about 30-ish minutes into the film where mountainclimber Habu experiences a heartbreaking setback that is as emotionally charged as filmmaking can be.
This is a film for an adult audience and serves as a strong reminder of just how powerful the medium can be and just how rarely mainstream audiences are afforded an on-ramp to adult  animated dramas.
Watch: Netflix
3) King Richard
A biopic about Serena and Venus Williams father and his dedication to getting his daughters the chance to compete in a very white, very monied sport? There's nothing super exciting about the prospect of that. But layer into it an incredible performance by Will Smith and a supporting cast of incredibly appealing character actors and the film starts to take shape.
Director Reinaldo Marcus Green keeps the film as light on its feet as the star tennis player siblings. I was left actually caring about these future tennis superstars. For sport averse Dan Barrett, that is quite the feat.
Watch: Digital rental
2) Dune
This was just the dose of desert power that cinema needed in 2021. It felt so far removed from the sort of big budget films we have seen on the big screen in recent years. At no point did I feel like the film was holding my hand, but also the film felt effortless in making what is a fairly complicated sci-fi fantasy story accessible for new audiences like myself.
Huge screen spectacle with an appealing cast, served up with bold production design. It was an exemplar of the spirit of classic cinema.
Watch: Digital rental
1) Shiva Baby
While a comedy film about a young Jewish woman attending a shiva for a family friend, this is one of the most stressful horrors I've seen on the screen. Relatable horror. The horror of having every family member and family friends all asking what your plans are for your life, why you aren't in a relationship, etc.
College student Danielle joins her parents in sitting shiva. There she finds herself trapped in a house with not only busybody family members and other "well-wishers," but also her kinda-ex-girlfriend, her current sugar daddy, and his wife. Just watch as every room she's in suddenly feels smaller and smaller than the one before it.
It's a small film in what is mostly a single setting and runs at a lean & tight 78 minutes. It never wears out its welcome and is immensely watchable for the whole runtime.
Watch: HBO Max [US], digital rental
---
The most downloaded apps of 2021
Interesting stats from research company Apptopia. The company has published lists of the most downloaded apps of 2021. While obviously you cannot just read this purely as a list of the most used services, it does offer insight into which services have the most heat around them. Which new services have audience attention, which established services are seeing churn, and which services are falling out of favor.
Overall, you can see here that the most downloaded apps are generally social media apps. The only real surprise to me is that Netflix and YouTube are not top 10 apps, but take a look at how much TikTok dwarfs the next top 10 content-driven app, Spotify. It's 3x the volume of downloads.
So, how does Netflix and YouTube fare? They are #1 and #2 on the list of top 10 entertainment apps worldwide. Something worth noting here is that YouTube has a seperate kids app, while Netflix has just the one app that includes kids content. It's not quite correct just to add the two YouTube apps together as most devices with YouTube Kids likely also has the regular YouTube app installed... but one would assume that there's at least 8-9 million devices out there which only has YouTube Kids installed.
It's interesting to me that on the worldwide chart, HBO Max and Pluto TV are both competing with global services. Both HBO Max and Pluto TV are in the early stages of expanding their services outside of the US. This indicates most of these are fresh downloads and don't represent reinstalls or new devices.
You can see that the heat around Pluto TV is coming from those international sign-ups, with the app failing to crack the top 10 listed below for just the US. Meanwhile, HBO Max leads all the other apps. For Netflix, app downloads in a saturated market like the US is all about re-installs (the company has pretty much peaked in terms of the volume of subscribers it can acquire in the US - all growth is  international). For HBO Max, it is very much on a growth trajectory.
The dominance of HBO Max attracting so many downloads speaks to the success of its strategy of putting new movies on the platform. What this list doesn't tell us is how many of these downloads are new customers or are customers who are reinstalling the app, dipping in and out of the service when there's a new movie of interest?
(Note: For my Aussie Always Be Watching readers, I have put out a request to get a local top 10 list from the team at Apptopia - if they're able to help, I'll share the data with you in an upcoming newsletter).
---
RIP John Madden. Madden lives on forever.
US football coach and on-air analyst/commentator John Madden has died at the age of 85. There's no reason that I, an Australian with little to no familiarity with US football, should have any awareness of John Madden - but I do and one can thank video game company EA Sports for that.
Internationally, and for what will almost certainly be generations to come, John Madden will continue to be known for the John Madden Football game title which is updated yearly. It debuted in June 1988, but wasn't a hit straight away. But within just a few years it found a loyal audience. 400,000 copies were sold on the Sega Genesis in 1992.
When Madden retired, he continued to work with the game developers. EA Sports licenced his name in perpetuity for a rumored $150 million, meaning that we will see John Madden Football on gaming consoles for many, many years to come.
What is interesting about the game is that it wasn't just a TV broadcaster slapping his name on the game - he gave feedback on the game with every edition and wanted it to reflect the integrity of the sport that he loved.
Madden insisted that the video game present two teams of 11 players — 22 sprites on a single screen, a brutal workload for personal computers of the day. Hawkins and the EA developers with him were more comfortable delivering a 7-on-7 game.

"That's not real football," Madden said. Hawkins said it would take years to develop a game that rendered all 22 players. "Then it will take years," Madden said.

"It was important to me that if it was going to be football, it was going to be real football, it was going to be NFL football," Madden told ESPN video games journalist Jon Robinson in 2011.
---
Talkin' Teletubbies
It is 2021 (for a few hours yet) and we're still talking about the Teletubbies. I couldn't understand why Sophie Gilbert, a writer for The Atlantic that I adore, was talking about the show 20+ years since it was in the culture. But apparently the show got rebooted a couple of years ago and she has just had some babies who have just reached Teletubbies consumption-age.
I'm trying to hold off my 3-month kid from watching TV, though over Christmas she did watch a few minutes of Police Academy 4: Citizens on Patrol with me. Reading this, I'm oddly excited to know that the Teletubbies may soon be parading across my television a year or so from now.
Sophie Gilbert on the horror/delights of the Teletubbies:
There is a dome, post-Soviet and colorful, wired with the kind of technological doodads you might see in a Bond villain's lair— revolving modernist chairs, disembodied voices rising out of metal speakers issuing orders for the day. A giant ball bounces ominously in the background. People disappear from time to time, but nobody leaves. Everyone seems to be constantly being watched.

I'm describing the avant-garde 1967 mystery series The Prisoner, but also the children's television show Teletubbies, which, thanks to unfortunate life circumstances, I've watched more this year than anything else.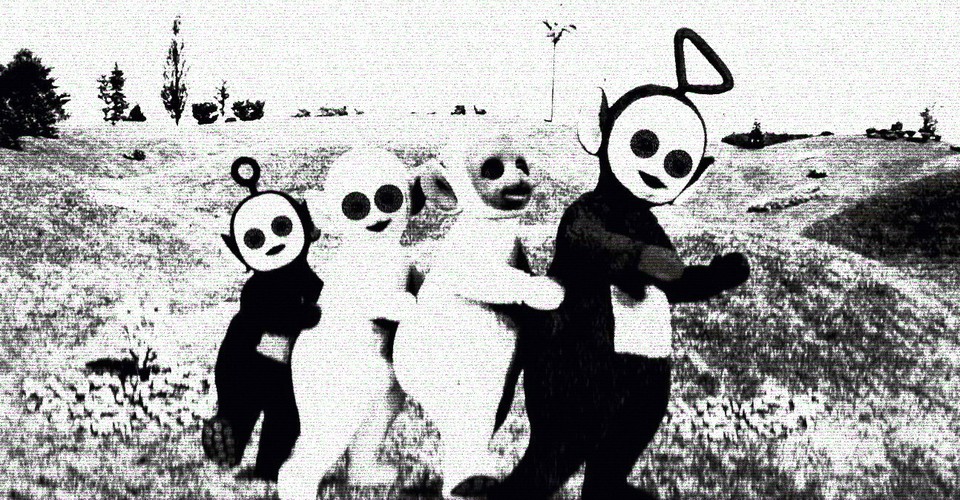 ---
The most pirated TV shows of 2021
Every year Torrentfreak releases its list of the most-pirated shows of the year. The titles are always male-skewing, genre-heavy shows that indicate most of the piracy is being done by 17 year-old teenage boys. So, don't expect to see Grey's Anatomy in the list anytime soon.
When looking at this years list, none of the titles will surprise you. But there is one really interesting thing to note, which is really a reflection on the changing face of television. Only one of the top ten shows are a returning series. The rest are all limited series or new shows launched for streaming services. In fact, the only returning show is also the only show that isn't made for a streamer.
10. Wheel of Time
9. Arcane
8. Rick & Morty
7. Foundation
6. What If...?
5. Hawkeye
4. The Falcoln and The Winter Soldier
3. The Witcher
2. Loki
1. WandaVision
The list only reflects what is happening on Bittorrent (and not other types of illegal streaming sites, which are becoming a more dominant source of piracy nowadays). Also, some shows aren't reflected on the list as it captures downloads for single episode releases and not for, say, Squid Game which was released on torrent sites as a full downloadable season instead of individual episodes. This is why Netflix isn't as heavily represented on the list.
---
TeeVee Snacks
---
The big day
News from Twitter's most vital account:
---
Trailer Park
Toast of Tinseltown debuts Jan 4 on BBC2.
Cheer returns for s2 Jan 12 on Netflix.
---
Enjoy your new years celebrations (maybe stay home this year...).