Dusting off some old IP, Paramount has announced a reality series using 45 year-old hokey sitcom The Love Boat as its template.
A joint production for the US CBS network and Australia's Channel 10, The Real Love Boat, two versions of the show will be filmed - one with US participants, and the other with Aussies. Presumably, they will be filmed concurrently to keep costs down.
Production on the pair of "The Real Love Boat" series will begin this summer. According to the logline, "'The Real Love Boat' brings singles together to cruise the Mediterranean on a luxury cruise ship while looking for love. Destination dates, challenges and surprise singles will test the couples' compatibility and chemistry. Like the beloved original scripted series, the indispensable crew members including 'captain' and 'cruise director' will play pivotal roles in the matchmaking and navigation of the romantic (and sometimes turbulent) waters ahead."
It is telling that the announcement of the show doesn't mention Paramount+ at all. Nor, does it sound especially salacious. This is a show being made for older audiences (at least 45+) who have a fondness for the original series. *I*, a man in his early 40s, know The Love Boat well. But I know I'm very much in the minority.
Don't expect this to be Love Island on a boat, is what I'm suggesting.
---
Did The Gilded Age prove flat?
Over the past 9 weeks I had a grand time with The Gilded Age and bought into the world of the show entirely. I now invite my friends to luncheon. And anytime someone arrives at the house, I will confirm my pleasure in receiving them.
But, despite my enthusiasm for the show, I also know in my ol' noggin that the show never quite lived up to expectation. And, yes, the season was perhaps a little flat. Will I be there for season 2? Of course. But this piece at Slate criticising the lack of dramatic heft in the show. Well, it isn't wrong.
As for Tom Raikes, his rise was so mysterious and swift (in a milieu that had explicitly labeled him a hopeless outsider with no prospects) that it suggested something deliciously soapy and sinister. Fans theorized that he'd stolen Marian's money and told her there was none, or that he planned to marry her for a fortune he knew she had. None of that turned out to be true. He was a nice enough guy who made some scummy but unremarkable choices and resorted to ghosting Marian out of cowardice. End of story. Even Marian seems to think he's not that bad. She's just disappointed.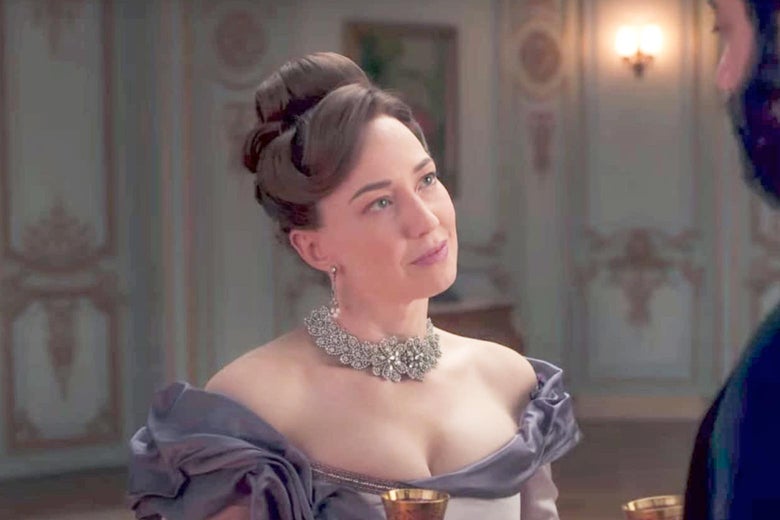 ---
A $1.6 billion dollar benefit to Netflix cracking down on password sharing? Good one.
Analysts say Netflix's plan to stamp out password sharing could net them an extra $1.6 billion a year. Meanwhile I'm too polite to include a gif of someone making the wanking hand gesture in my newsletter. The reality is that Netflix have cultivated a lot of reputation and customer loyalty based on youth viewership. A mandatory block on shared passwords, which is engaged in by a minority of users, will provide an off-ramp point for these price sensitive customers. The last thing Netflix needs is the perception that young people are abandoning the service.
Right now this trial is taking place in three small markets. And even if it grows beyond that, the restrictions put in place will be so feather-light that $1.6 billion is nonsense.
According to estimates by Cowen & Co. analysts, if Netflix rolls the program out globally it could add an incremental $1.6 billion in global revenue annually, or about 4% upside to the firm's 2023 revenue projection of $38.8 billion. The firm's estimate assumes that about half of non-paying Netflix password-sharing households will become paying members; further, the model predicts that of those, about half will opt to sign up for their own separate paid account.
---
The CW Renewals
Yesterday US network The CW announced a whole bunch of renewals, some expected. These renewals are a little later than usual for The CW - it is a network still sorting out its future ahead of a sale of the network.
The Flash for Season 9 (will it be the final season?)
Kung Fu for Season 3
All American for Season 5
Nancy Drew for Season 4
Superman & Lois for season 3
Walker for Season 3
Riverdale for Season 7.
---
Stan and Lionsgate partner
Aussie streamer Stan and US studio Lionsgate are partnering on three local productions:
Population: 11 is a comedic crime thriller that takes place in a tiny outback town where a man goes missing and a desperate stranger arrives to investigate its motley crew of townsfolk. Inspired by true events, Population: 11 is created by AACTA Award-winner Phil Lloyd (The Moodys, Review With Myles Barlow), who will executive produce alongside Trent O'Donnell (Stan Original Series No Activity, Ghosts) and Jason Burrows (Stan Original Series No Activity, Wakefield), with Bridget Callow-Wright producing(Stan Original Special No Activity: The Night Before Christmas).
The Geography of Friendshipisbased on Sally Piper's acclaimed novel of the same name and follows three female school friends in past and present timeframes. When a hike celebrating the end of school culminates in a violent confrontation, the trio go their separate ways and remain estranged until decades later when they reunite to retrace their steps, seeking closure, connection and redemption.
Prosper is set in the inner sanctum of a family bound together by unfathomable wealth and unchecked power as they build an evangelical megachurch hell-bent on global domination. Developed with the support of Stan, Lionsgate, Screen NSW and Screen Australia, Prosper is written by lead creative and executive producer Matt Cameron (Jack Irish, Secret City), Liz Doran (Barons, Please Like Me), Louise Fox (Glitch,Broadchurch) and Belinda Chayko (Fires, Stateless). The series is being developed by Jason Stephens (Lambs of God, Upright) and Helen Bowden (The Secret She Keeps) for Lingo Pictures.
TeeVee Snacks
Trailer Park
The Offer debuts April 28 on Paramount+. This is the show about the behind the scenes making of The Godfather.
---
That's it for today. Tomorrow: another newsletter.