Since starring as Omar on The Wire, Michael K Williams became a permanent fixture on our screens. You've likely seen him since on shows like Boardwalk Empire, Community, The Night Of, and most recently Lovecraft Country. He also hosted one of the better VICELAND launch docu-series Black Market.
Williams has been very open about his struggles with drug abuse. Today comes news that the actor was found dead in his New York apartment after a suspected overdose.
Earlier this year Williams gave a great interview to Marc Maron on the WTF podcast. That is currently behind Maron's library paywall, but usually when a former guest on the show has died Maron will re-publish the episode. So, it's likely you will see that available again for free on the podcast feed.
---
Phoebe Waller-Bridge is out as Mrs Smith
Donald Glover and Phoebe Waller-Bridge had TV fans excited when it was announced that the two highly popular, respected TV creatives were teaming up to produce a TV show together. It was going to be a TV remake of the 2005 Brad Pitt/Angelina Jolie film Mr & Mrs Smith, produced for Amazon. A surprisingly commercial idea for the Atlanta and Fleabag creators.
It sounded fun and what was especially exciting about it was that it was bringing together two creatives with distinct comedic voices.
Today comes news that Waller-Bridge is leaving the show following creative differences with Glover. He will remain with the show.
Waller-Bridge was due to star in and executive produce the new series alongside Glover. The duo announced the project last year with a short self-shot Instagram clip in which Glover could be seen dancing while Waller-Bridge got up from her computer to pose in the doorframe behind her, echoing Jolie's pose on the original film's poster.

The series was conceived by Glover, who is staying on the series as co-creative producer and executive producer, as well as stepping into Brad Pitt's shoes in front of the camera, and Francesca Sloane ("Atlanta"), who remains onboard as showrunner.
---
TeeVee Snacks
For those of you keeping up with Evil (by far the most interesting, unexpected show on TV), you'll want to read this interview with Robert & Michelle King - a lot is focused on Andrea Martin's character Sister Andrea. She had a big episode this week with THAT scene. Read: TV Insider
Margaret Simmons asks whether NewsCorp's announcement yesterday that it will stop climate denialism on its networks and push for action on climate change actually reveals the limitations of its power. Read: SMH
Any Aussies interested in watching the MCU-style Days of Our Lives event series Beyond Salem will be happy to know that the series will launch on streaming service Binge from Sept 10. The show will stream on Peacock in the US.
---
The countdown starts today
Today marks the debut of an interesting project at Netflix. The streamer is releasing a near real time docu-series following the crew of the Inspiration4 space mission. It's a crew of civilians heading into space to orbit Earth.
The first two episodes are now on Netflix. Two more episodes debut on Sept 13. And then on Sept 15 the Inspiration4 mission blasts off. A final episode will then debut at the end of the month.
While I'm incredibly excited to watch this, I'll admit that I'm a little uneasy about it as well. I have two conflicting thoughts:
It is fantastic that we are seeing the dawn of a new space age. Humanity should be reaching for and pushing out to the heavens. Space is our future. Inspiration4: Misison To Space is an exciting idea for a documentary and will bring the excitement and euphoria of advancing our move into space to living rooms across the world.
Inspiration4 is a corporate space mission (run by Elon Musk's Space X) and this documentary series is little more than a promotion for this corporate venture. The selection of the crew is a cynical move to seem as progressive as possible. It is all very calculated and a bit gross-feeling.
While I don't have a problem per se with a corporate space mission, I am concerned that this documentary series serves only as a cheerleading exercise and is not asking any hard questions. The same can be said for the current Axios podcast series about the Inspiration4 mission.
All of that said, I'm still excited and will watch every second of this. Please, however, go into this with some recognition that this is a glossed-over representation of what is actually happening.
The much-more-cynical-than-I Lucy Mangan at The Guardian has a deep dive write-up on some of the issues with the series/mission.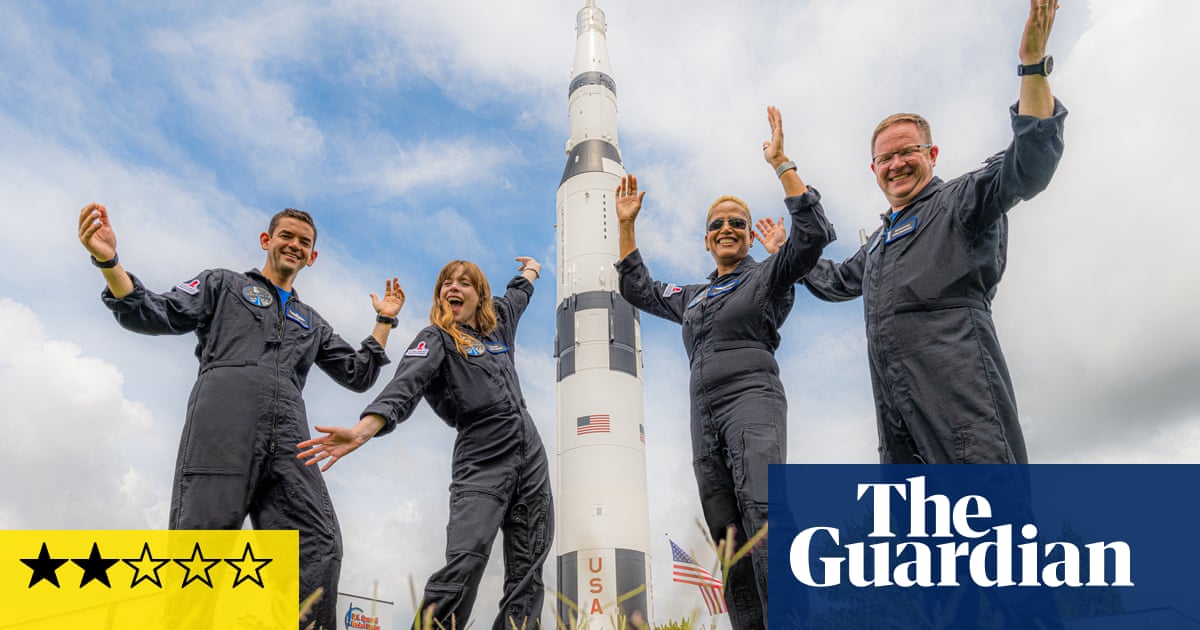 ---
What's next? Tomorrow.